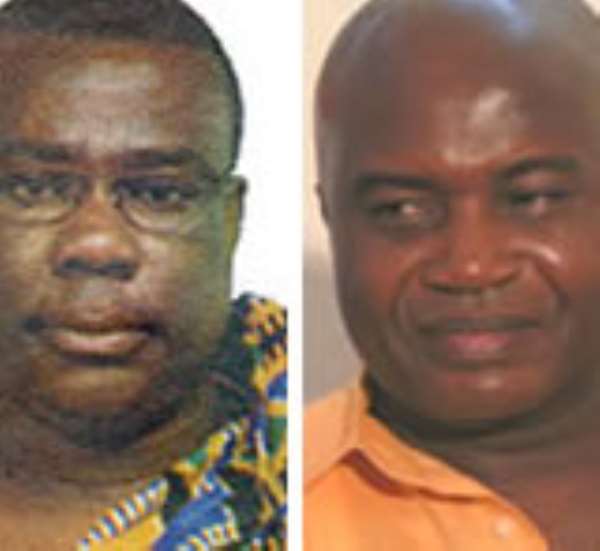 Accra, Dec. 17, GNA - Tooting horns of buses arrived at the University of Ghana, Legon campus on Saturday bringing in delegates of the New Patriotic Party (NPP), who Providence has given the onerous responsibility to select a team of commanding officers that would prosecute Election 2008. Dressed in Party paraphernalia and colours the delegates sang Party songs and shouted its slogans.
The delegates like biblical Gideon must have now seen the convincing signs to guide them in the selection of their warlords for Election 2008. There are nine positions at stake. They are National Chairman; First National Vice Chairman; Second National Vice-Chairman; Third National Vice Chairman; General Secretary; National Organiser; National Treasurer; National Youth Organiser and National Women's Organiser. The most crucial among the seven are the positions of the National Chairman, General Secretary and the National Organiser.
Mr Haruna Esseku, the incumbent National Chairman, announced his withdrawal from the race at the eleventh hour reducing the chairmanship race to a direct one between Mr Steve Ntim, First National Vice Chairman and Mr Peter MacManu, Former Western Regional Chairman. Contesting the Vice Chairmanship positions are Madam Hawa Yakubu, who appeared to have a solid support base; Mrs Agnes Okudzeto; Mr Edmund Annan; Amadu Kaleem; Alhaji Sanni Iddi and Mrs Margaret Acquaye and Mr Abdul Rahman Musa.
For the position of General Secretary are: Nana Ohene Ntow; Mr Kwadwo Afari; Mr Mustapha Abdul-Hamid; Mr Francis Kojo Smith; Mr Andy Appiah Kubi and Mr Abeeku Dickson. Mr Lord Commey, the current National Organiser; Alhaji Moctar and an US-based Mr Iddrisu Musah Superior are gunning for the position of National Organiser. Madam Gifty Ama Asantewaa-Ayeh and Mr Kwesi Arthur are contesting the position of National Treasurer. Ms Tina Gifty Mensah; Mrs Halima Mahama Appiah; Mrs Rosemary Ekwam and Ms Rita Asobayire are gunning for the position of National Women Organiser. For the National Youth Organiser position are Mr Abdul-Majeed Bawa; Mr Michael Kwabena Ampong; Mr Pius Enam Hadzide; Mr Arnold Kwaku Boateng; and Mr John Boadu.
Delegates with voting rights are five executives from each of the 230 constituencies; 10 Regional Executives; all the 128 NPP Members of Parliament; 46 Regional Representatives. Others are the nine national officers; Chairman of the Council of Elders; the Representative of the President; three past National Chairpersons and a past National General Secretary. Officer from the Electoral Commission would conduct the elections.