London Mission Supports Ex-Skipper of Satellites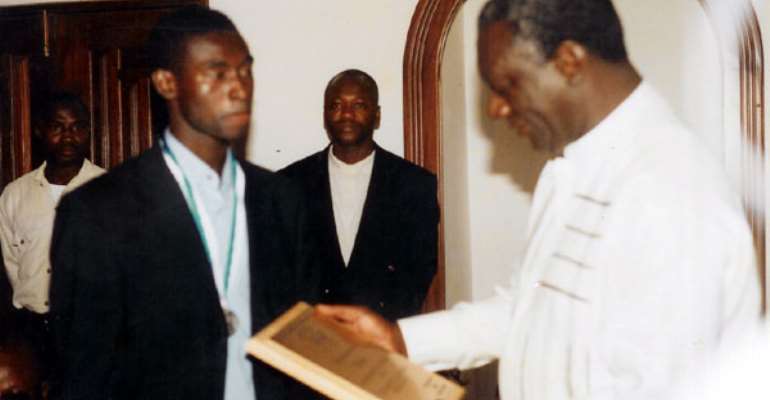 Staff of the Ghana High Commission in London passed the hat round to raise £380 for Maxwell Banahene, the injured deputy skipper of the 2001 squad of the Black Satellites currently residing in London for medical care.
H.E. Mr. Isaac Osei made the token presentation to Mr. Banahene to enable him offset part of his medical bills which were incurred as a result of a series of surgery undertaken to heal a broken right kneel.
Maxwell Banahene who travelled to the UK in November 2002 for medical treatment had to abandon it last year for lack of funds. The stranded ace goalkeeper is presently putting up with friends in the UK hoping to raise some funds to complete his treatment.
Speaking at the presentation ceremony, Mr. Osei called on all benevolent Ghanaians and businesses in the UK to help the stranded star.
The agile goalkeeper dazzled the world with his super performance at the Under-20 World Youth tournament in Argentina in 2001 where the Black Satellites won the silver medal. Goalkeeper Banahene also captained Ghana's Starlets squad which emerged runners-up at the Under-17 African tournament in Ethiopia (1998) and the second runner-up at the Under-17 World Football tournament in New Zealand (1999)
Authorities at the London Independent Hospital where Maxwell was diagnosed with "total meniscetomy" of the right kneel have indicated that the former Black Satellites player would need a total of £5,000 to complete his treatment.
Donations could be sent in cheque to:- Ghana High Commission, 13 Belgrave Square, London, SWIX 8PN for the attention of Mr. Mark Entsie. All cheques must made payable to MAXWELL BANAHENE
PICTURE: Maxwell Banahene present the Special commemorative plague won by the Black Satellites at the World Youth Tournament in Argentina to H.E. Mr. J.A.Kufuor