Nigerians Rounded Up In Crime Combat By Police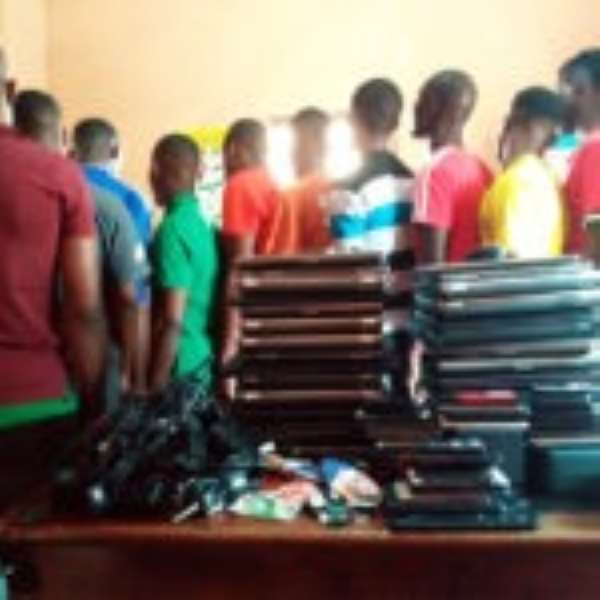 Twenty-one persons believed to be Nigerians are in the grips the Amasaman Divisional Police for allegedly involving in various armed robbery cases at Pokuase ACP and its environs in the Greater Accra Region.
The suspected robbers, whose identities are yet to be made public, were nabbed by the Amasaman Division during an operational exercise on criminal hideouts yesterday, October 9, 2018, between the early hours 6 and 9a.m.
The exercise, which was led by the Pokuase District Commander, ASP John Nuertey, helped the police to retrieve from the suspected robbers 29 assorted laptops, 30 assorted mobile phones, 17 pen drives, and over 95 sim cards for different networks.
According to the police, the suspects were occupying a three bedroom apartment at Pokuase APC where they were arrested.
Chief Superintendent Francis Yiribaare, Amasaman Divisional Commander, told the media that the arrest was based on intelligence they gathered, adding: "The exercise was part of the ongoing operational measures against criminality within the jurisdiction."
He indicated that intelligence they gathered provided that the suspects were in the 3-bedroomed apartment had very suspicious movements, and always leave the apartment at night for unknown activities and return at dawn to sleep.
According to him, "They (21 persons) were suspected to be among various armed robbery syndicates that terrorise and rob innocent persons off various properties, including computers."
Two other persons were arrested whilst they were smoking substances suspected to be Indian Hemp in a ghetto in Mayera, suburb of Amasaman, during the operation.
All 23 suspects have been detained and retained for further investigations, while efforts are also being made to contact the landlord to also assist in investigations.