Tehey School Officially Opens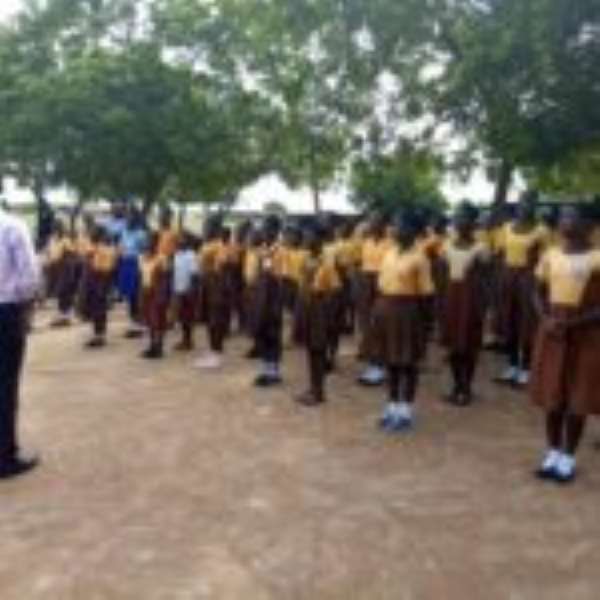 Full academic work has begun at the Tehey District Assembly (D/A) Basic School, after its closure barely a fortnight ago by the Ada District Education Circuit of the Ghana Education Service (GES), following the burning of a corpse of the Tehey Chief and an ambulance conveying it.
The ghastly incident happened on September 15, this year, when some angry youth of Tehey protested against the burial of the late Nene Mensah Zotorvi V, Tehey Chief, 67, at his residence.
The bereaved family, in spite of being served with a court order restraining them from burying the deceased in his residence, apparently defied the order, as a consequence, triggering the plaintiffs to attack the mourners with weapons.
Ofotsu Sabbah, 40 years, who was at Tehey to mourn with the bereaved family, was reportedly gunned down by the rampaging youth.
The Paramount Chief of the Ada Traditional Area, Nene Abram Kabu Akuaku III, who had condemned the act, wondered why such a vile crime could be perpetuated on his land, and charged the Ada Divisional Police Command, which has, at the last check, made seven arrests, to intensify the search for the actors of the monstrous act.
Besides, he called for a 24-hour police patrol to convince the GES to reopen the Tehey D/A Basic School for teaching and learning, a request that has paid off.
On Monday October 1, the District Chief Executive (DCE) of Ada West, Adzoteye Lawer Akrofi, was privileged to open the Tehey D/A Basic School.
Smartly dressed in their school uniforms, the pupils beamed with joy, welcomed their friends and teachers, and happily recited the national anthem at a parade.
The DCE, welcoming the pupils, encouraged them to be hard working and respect their teachers, who have promised to work harder to cover up for the lost instructional hours.
He said education is the best investment every parent could give their children, and with a view to becoming better and responsible leaders in Ghana, advised the pupils to flee from acts or friends who could kill their future.
"Presently, I can assure you that there is peace in our town, Tehey, and so we should not be afraid to go about our usual duties. The police are always going to be in our town to protect us all, and so everybody is safe, and that is why we are in school today to start learning again," he told the pupils, who applauded his assuring words.
Raymond Ayitevi, Headmaster of the school, expressed profound gratitude to the DCE for restoring peace and sanity in the area.
He said that the presence of police and other security task force would enhance teaching and learning, and allow residents to freely go about their duties.
Mr Ayitevi was hopeful that the present calm situation would urge all residents who fled the town to return home.