24 Basic Schools In Accra Get Toilet Facilities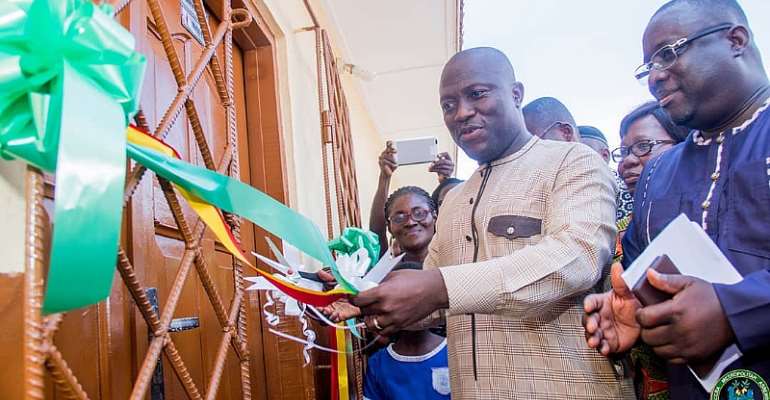 The Accra Metropolitan Assembly(AMA) has handed over twenty four sanitation facilities worth GH¢4,873,000 to some basic schools in the metropolis.
The schools are Osu Salem 5 Primary school, Osu St. Barnabas Primary School, Independence 1&2 Primary School,Farisco Cluster of Schools, Ayalolo Cluster of schools,Dr. FV Nanka Bruce Junior High School (JHS), Korle-Gonno RC Boys, Mamprobi 1 (M1) / Socco Cluster of Schools), Accra New Town 4&11 Primary Schools, Accra New Town 6&8 Primary Schools and Unity Cluster of Schools.
The rest are Kwashieman Cluster of schools, Darkuman JHS, Shiayennor 1&2, Shiayennor A&B JHS,Kwame Nkrumah Memorial JHS, Abossey Okai Cluster of Schools,Kaneshie West 1&2 Cluster of Schools, Mateheko RC Cluster of Schools, Dzorwulu JHS,Kanda Cluster of Schools,La-Balawashie Presby Cluster of Schools,Maamobi Prisons Cluster of Schools as well as Kaneshie kingsway 1&2 Primary & JHS
The facilities which are disability friendly comes with toilet cubicles , changing room for girls , refuse holding bay with bins, urinal ,hand washing bays as well as water supply and storage facilities.
Mayor of Accra, Mohammed Adjei Sowah, in a key note address said the commissioning of the facilities are clear manifestation of the Assembly's commitments to make Accra one of the cleanest cities in Africa as declared by the President a year ago.
He pointed out that the facilities which were funded by the World Bank would go a long way to deal with the problem of open defecation and other health risks that may lead to infectious diseases like diarrhoea and cholera which could lead to death.
He noted that as part of efforts to arrest the insanitary conditions in the city urgent steps are being taken by government, led by the Assembly to change the negative story.
He said the Assembly with support from the World Bank was providing and supporting households with places of convenience at a subsidized cost adding that these are bold initiatives to arrest and change the story because Accra indeed is beautiful.
"Today we can say on authority that Accra has no problem in the discharging of liquid waste because we have an excess capacity that will receive and treat the liquid waste," he said.
He also observed that the usual mountains of solid waste in Accra are a thing of the past because the Assembly is aggressively pursuing the "Clean Accra Agenda" ultimately to achieve the President's vision of making Accra the cleanest city.
"I walked from my office to this is place and you cannot find garbage scattered on the streets, it is not magic, this is Accra for you. We are changing the story and indeed we want Accra to be called a beautiful city," he said.
The Mayor also touched on Accra's Sustainable Greening and Beautification Project which was recently launched and urged all to rally behind the Assembly programmes to ensure a clean Accra where all could live in and love it.
Metro Director of Education, Madam Margaret Frimpong-Kore, in a welcome address expressed appreciation to the Assembly for the facilities stressing that it would help discourage girl absenteeism in the schools as well as alleviate diseases caused by poor sanitation and unsafe water and urged the Parent –Teacher Association (PTA) to help maintain the facilities.
Project coordinator for the GAMA project, Ing. George Asiedu who took the entourage around facilities said the project which commenced some two years ago was aimed at increasing access to improve sanitation in homes and schools.
"The idea is to inculcate in the kids the good behavior and attitude that would not push them to the streets or to the bush or to put up a behavior to ease themselves as and when nature calls outside the prescribed facilities," he said.
He called on the AMA and the beneficiary schools to put in place measures to support this operations and maintenance of the facilities.