Abura-Dunkwa: Irate Youth Set Houses On Fire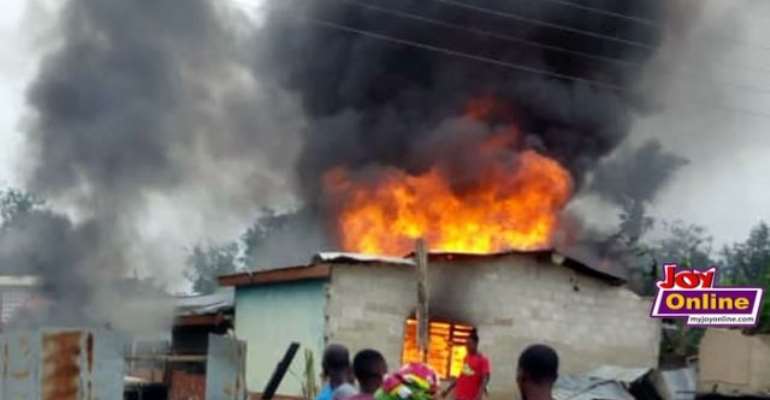 There is heavy security at Abura-Dunkwa in the Central Region as angry youth burn down five houses to retaliate the alleged killing of a security guard on Saturday.
Police have tried to calm the agitated youth, assuring them on Sunday morning that they had launched a murder investigation and a manhunt for those responsible for the killing of the security guard, but that has done little to calm the situation.
The houses set on fire belong to persons they suspect are responsible for the killing of the security guard.
Central Region Correspondent, Richard Kwadwo Nyarko reports that unsteady calm has been restored to the community.
"There is a delegation from the regional headquarters of the Ghana Police Service and they are listening to the different versions of the story by eyewitnesses. At the moment they are in a meeting with the family members of the deceased and opinion leaders in the town," Richard reported Sunday.
Background
Three weeks ago, a linguist and in the community and his wife were both murdered, beheaded by unknown assailants.
The youth of the town suspect that a group of foreigners residing in the community are responsible for the gruesome murders.
On Saturday, wife of the murdered security guard allegedly told the youth of the community that her husband had told her prior to his death about an attempt on his life by a group of people whose description fit the foreign nationals who live in a Zongo community in Abura-Dunkwa.
Angry that law enforcement agencies have not been on top of the strange killings, the youth of the community launched their own attack on the Zongo community, torching houses and destroying properties.
Police assurance
Police officials told Joy News Sunday that although the situation in the area is tense, they are on top of issues.
They say they have involved opinion leaders in the area and have managed to get the angry youth to trust the process.
Investigations have begun in earnest to get to the bottom of the strange murders, Police have assured.
Story by Ghana | Myjoyonline.com | GN