Why I Crossed Akufo-Addo's Convoy - Man Reveals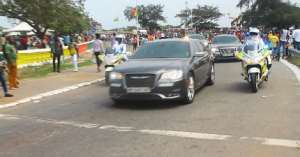 The man who crossed the convoy of President Nana Akufo-Addo has revealed his reason.
Multiple media reports quoted the police as saying the man, Seth Nana Amowi, crossed the president's convoy so as to kill himself.
Amowi, who has already made a court appearance for his action and is currently on bail, said he obstructed the president's convoy to present to him a petition.
He said several avenues to petition the president had been unsuccessful, and therefore decided to jump in front of the president's convoy.
He said he had a letter for the president which contains suggestions as to how to improve the economic challenges facing the country.
In the letter, he suggested that churches as well as private cars should be taxed in order to raise money for the country.
On his first court appearance, he was granted bail in the sum of GHc 20,000 with a surety.
The Court ordered that the surety should be either his father or brother as prayed the Prosecution.
He has been charged with obstruction and offensive conduct after he threw himself at a Presidential convoy in an attempt to kill himself.
According to Deputy Superintendent of Police (DSP) George Amegah, the incident happened on August 7 around the Jubilee House.
DSP Amegah told the court that the accused hid himself close to the Jubilee House whiles waiting for the President.
The Police Chief said but for the car stopping abruptly, the accused would have succeeded in his plans of killing himself.
He explained that when the attempt failed, Amowi started hitting the President's car and had to be whisked away by the security team.
Meanwhile, the accused admitted in his caution statement that he tried committing suicide as he had failed severally to put his grievances before President Akufo-Addo.
He, however, pleaded not guilty to all the charges and will make his next appearance on September 26