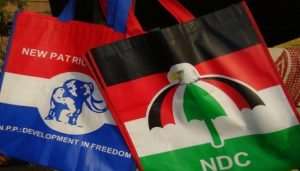 Folks, take it from me that happenings in Ghana under Akufo-Addo create a congenial atmosphere for the NDC to spring back to power if it puts its own house in order.
Much has happened to tell Ghanaians the stark truth that all the noise that Akufo-Addo led the NPP's electioneering campaign armada to make for support isn't solving problems.
Much of what has happened thus far is to Akufo-Addo and the NPP's disadvantage, which the NDC should capitalize on as it prepares itself to interact with the electorate in the bid to win their support at Election 2020.
No matter how Team Akufo-Addo manipulates the situation because it has the rein in its hands, once the voters aren't happy with goings-on, they will make their voices heard at the polls. And a lot has already happened to tell them that Akufo-Addo isn't a problem-solving person. He is a problem to be solved at the polls.
We have interacted with many and heard their views. We have also seen a lot happening in Ghana to prove that Akufo-Addo hasn't been able to effect any CHANGE for Ghana's good. The so-called slogan of "Change" that put him in power has all of a sudden ended up in smoke.
That is where the NDC must step in. After all, the records show that all the noisome political rhetoric that put Akufo-Addo in power is to Ghana's detriment. No change has happened thus far; and the circumstances under which Ghanaians live is terrible. Yet, Akufo and his government of "family-and-friends" is happy. And it is perpetrating the very ills that it had accused Mahama of committing against Ghana.
All the allegations made against Mahama before Election 2016 can't be proved and substantiated with evidence. None of those who worked closely with Mahama has been found culpable and prosecuted or imprisoned to prove that Mahama was really a "thief" of all thieves in power.
The much publicized rot at the Ghana Cocoa Board that made them send Dr. Stephen Opuni to court is fizzling out. So also is the case of those accused of causing financial loss to the state in their deals at the National Communications Authority (In any case, Ursula Owusu, the sector Minister, has done worse in terms of the contract with that dubious company (known to them); but Akufo-Addo is defending her. Why so? No clean conscience here!!).
Folks, a lot has already happened to wake Ghanaians up to the fact that Akufo-Addo isn't a problem solver. Ghanaians are alert to everything happening and they know and can thump their chests in dismissing Akufo-Addo as a rabble-rouser.
In any case, Ghanaians have known him all these years for what he is (as a lawyer-of-sorts, a politician, and now the head of government business). As he faired poorly in his academic efforts, so is he failing in his political endeavours.
That is what opens the sluice for the NDC. Ghanaians know it all and will decide at the polls how to deal with him and the NPP. But they will do so only if they see an alternative that has proved that it has made amends in whatever it failed to do for it to be damned at Election 2016.
That is the challenge for the NDC. What new message will it give to Ghanaians to assure them that it is the agent for solving the problems that it created or failed to solve while in power. And what does the NDC have to do to prove that it can turn Ghana around?
The truth is that Akufo-Addo has failed woefully less than 2 years in power. What more?
The NDC must see this loophole and plug itself into It so it can get the support of the voters to return to power. It must do so only with those who know what is at stake, not those making noise all over the place because they have the gift of the gab!!
The real intricacies on how to get John Mahama into the saddle and to eject Akufo-Addo from power are up my sleeves that I will release soon.
I shall return…
By Dr. Michael J.K. Bokor
(E-mail: [email protected] )
Wednesday, September 12, 2018