President Akufo-Addo Announces Ghc500m Fund To Help Farmers Access Loans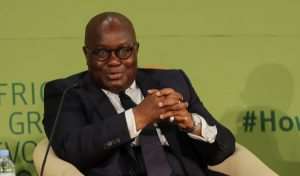 President Nana Akufo-Addo has hinted of the setting up of a GHc500 million fund to support farmers through loans at reasonable rates to sustain their farming activities.
The fund is to be set up by the Bank of Ghana.
This will be part of policies the President says his government has properly aligned to ensure success in the agricultural sector.
He was speaking at a panel discussion on African Green Revolution Forum in Kigali, Rwanda.
President Akufo-Addo was particularly worried about the lack of attention given to agriculture across the continent.
"We are devising financial instruments that will enable farmers to have access to credit. The Bank of Ghana is establishing a fund, some GHc500 million, which is roughly over $100 million which is going to act as some form of insurance for the commercial banks to give out loans at reasonable rates to the farmers."
Aside from the financial constraints, President Akufo-Addo said the attitude to farming in Ghana also needs to change.
"That attitudinal change is something that we need to work systematically," he noted.
"People still continue to look upon agriculture as something that people who don't have anything else to do engage in; something to escape from and not something that will provide a good life which will make an important contribution to the development of society."