Madina Cluster of Schools Get Teaching Tool Support From Graduate Students Of IDL, KNUST (TeachAidInco. Group)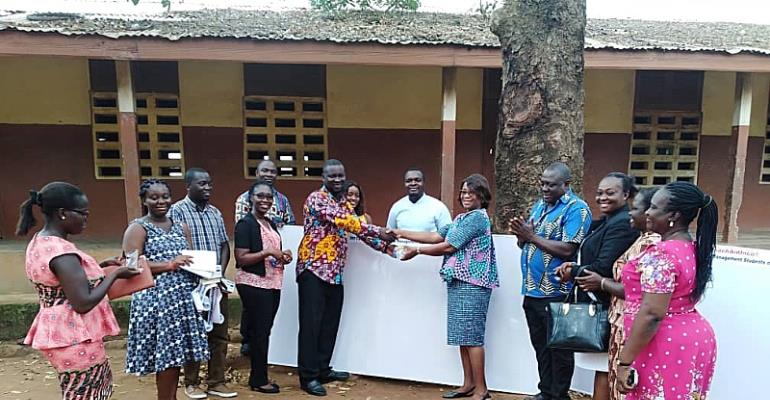 A nine (9) member student group pursuing MSc. Development Management programme at the Institute of Distant Learning, Kwame Nkrumah University of Science and Technology (KNUST- Kumasi) have undertaken a social enterprise project.
The students, as part of fulfilling of their MSc. Development Management Course and in line with philanthropic and social entrepreneurship endeavor, have donated Teaching Tools to Madina Cluster of Schools in the La Nkwantanang Madina Municipality in Greater Accra Region, Ghana. The group was made of five (5) males led by Justice Kwasi Ahiekpor, Frederick Adu-Gyamfi, Asamani Isaac Ansong, Laud Binka and Emmanuel Armo-Annor and four (4) females; Philomena Afia Norman, Sharron Geraldine Quartey, Theresa Boatemaa Ofosu and Darling Maame Efua Cann.
The group of nine selected the provision of white boards to the schools with the aim of contributing to goal 4 of the Sustainable Development Goals – "To ensure inclusive and equitable quality education and promote lifelong learning opportunities for all."
The group known as TeachAidInco., during their needs assessment identified that, long term inhalation or exposure to chalk dust poses health challenges for teachers especially and pupils. During an interactive session with a cross section of teachers, it emerged that frequent irritation of eyes, blocked nose, sneezing and cough were notable among some of the challenges they encounter with the use of chalk. In addition, further research has indicated that, teachers using chalk have the potential of developing occupationally related health issues. Hence the need to shift from the routine use of chalk and board to improved teaching tools.
To help address this challenge in their small way, the group through fund raising from family and friends have donated six (6 ) whiteboards for six classrooms, twelve (12) boxes of whiteboard markers and six (6) dusters to the Madina Cluster of Schools as their way of contributing to solve this social issue.
The group deems it important that, the action would improve teaching materials and learning environments. To them, these are prerequisite for enhancing efficient quality education and improved health and these directly feed into the Sustainable Development Goals (SDGs) 4 and 3 respectively.
To this end, TeachAidInco is hopeful that, this gesture would create awareness and also spur other philanthropists to offer similar social support to chart this worthy and sustainable course.