UEW Vice-Chancellor Lauds Afenyo-Markin, Neenyi Ghartey And Affutu MCE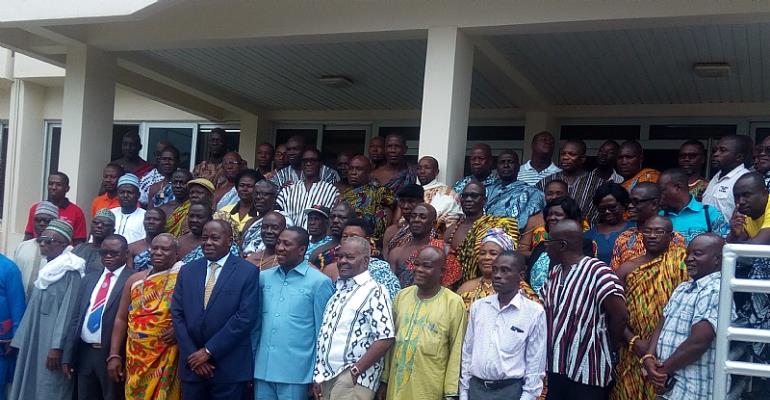 The Acting Vice-Chancellor for University of Education, Wnneba (UEW), Rev. Fr Prof, Anthony Afful-Broni, has commended the Member of Parliament Effutu Constituency, Hon Alexander Afenyo-Markin, Omanhene Neenyi Ghartey VII, and MCE for Effufu Municipal Mr. John Bartholomew Ninson for the immense support given the University community so far.
"We have enjoyed a great deal of support from the Omanhene, Neenyi Ghartey VII, whom we are also privileged to have on our Governing Council. The MP Afenyo-Markin through his unwavering support has always proved that his interest in the growth and success of UEW is closely tied to the growth and success of Effutu and Ghana," Prof Broni declared.
Addressing the gathering of the Effutu Traditional Authority, Zongo community chief, Imam, representatives of other religious heads, and the Assembly members at Winneba, he lauded their collaboration and cooperation efforts for peaceful coexistence between the Varsity community and the residents of Winneba.
"It is so beautiful to see how this visit comprises a rainbow of the diverse indigenes and residents in the Effutu Municipality with every group that matters in this great place is represented right here within this delegation"
"This visit is exceptionally refreshing because it signifies the emergence of a new University Community relationship in which we progressively forge ahead as equal partners in development, equal stakeholders in providing education and training teachers for Ghana especially the indigenes and residents of Effutu "
Prof Afful- Broni noted that the University this year has ensured equity in the recruitment of highly qualified indigenes for various positions in the Varsity as part of human resources policy.
We want to assure our partners gathered here that we shall do everything within our core mandate and our limited resources to support the provision of education for the sons and daughters of Effutu as well as Ejumako, Kumasi and Asante Mampong our satellite campuses.
He said the UEW shares the collective responsibility with Effutuman to ensure that her sons and daughters take advantage of the current government's Free SHS policy to ensure that many children get access to high school education.
"We are committed to the cause of Free SHS and also to expanding initiative of the Double-Track system to absorb the overwhelming number of qualified candidates who otherwise would have been left behind"
The Prof disclosed that the Double-Track system is internationally acknowledged as a useful educational policy to ensure an equitable distribution of access to higher school and Tertiary education to everyone
The MP for the area Afenyo-Markin praised the Vice Chancellor Broni and the University Authority for their foresight in ensuring that the indigenes are not left behind in education
He pledged to continue supporting the university and the community for the mutual benefit of all.