A Tribute To Mr. Joseph Henry Mensah (J. H. Mensah)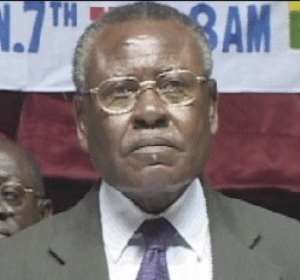 MOURNING A GIANT POLITICAL STATESMAN MR. JOSEPH HENRY MENSAH (J.H.MENSAH)
I write personally in my capacity as a FOUNDING MEMBER* of the powerful GHANA DEMOCRATIC MOVEMENT (GDM)* in Hamburg, founded by Mr. Joseph Henry Mensah in exile who was internationally recognised as Chairman with London as its head office with a branch in Germany in the merchant city of Hamburg as head office. The GDM challenged, published articles and protested strongly against the PNDC regime through demonstrations, seminars etc.for unlawfully removing a democratic government of Dr. Hilla Limann on 31st December, 1981 in Ghana.
I served under the GDM in the position as National Financial Secretary and Assistant General Secretary simultaneously from 1982 - 1992 until ban on party politics was lifted in Ghana. I had so many political interacts with Mr. J. H. Mensah personally during the political struggle against the PNDC killer regime outside Ghana in Hamburg, Dortmund, Kiel and Dusseldorf etc. on several times. I would like to say emphatically with pride to describe him as a celebrated politician, an economist, a lecturer, a tutor, a good counsellor and a Ghanaian traditionalist. Mr. J. H. Mensah was optimistic that one day Democracy will be restored in Ghana. See the below classical political pictures depicting most of his instrumental activities and contributions in Germany
1. Inauguration of the GDM in Hamburg: 21. 04. 1984 at the University of Hamburg.
a.) PICTURE NO. 1. :
GDM members mostly Ghanaians and German sympathisers demonstrating through the streets of Hamburg to the inauguration hall at Mensa, University of Hamburg.
b.) PICTURE NO. 2. :
Mr. J. H. Mensah addressing the audience at the great hall of the University of Hamburg where he delivered his powerful and penetrating speech with Mr. S. E. Osei of Hamburg (Agya Osei), GDM Director Of Operations assisting him with the microphone.
EXTRACTS FROM HIS ADDRESS :
Mr. J. H. Mensah lamented about deep cries of Ghanaians on crimes against humanity and bad economic infrastructure, detentions without trial, low level of Ghana's education system etc. conditions 27 years after independence with the hall filled to capacity. He reiterated that historically, there has not been any successful military rule over the world. He cited an example that Sir Winston Churchill who rallied the British to victory during the 2nd world war as Prime Minister was forced to resign immediately after the end of the war because they didn't want to experience military dictatorship in Great Britain and received standing ovation from the invited guests and participants, journalist, lawyers as well as human-right groups etc. who came to listen to his powerful address. He concluded finally not for Ghanaians to rely on United States, Great Britain or Germany to fight for our freedom but to get involved in the struggle irrespective of ones political affiliation, religion and tribe through the mass media and with GOD ON OUR SIDE, the fight to restore DEMOCRACY IN GHANA will be successful one day in his life time and will spread over the continent of Africa to end military regime's which is becoming common on the African continent.
A DREAM COMES TRUE.
c.) PICTURE NO. 3. :
Line up of the GDM Executives at the inaugural hall: From R - L.
Oheneba Oduro-Opuni, Messrs: George Kofi Afrifa, Dr. Edgar Twumasi, R. O. Frimpong-Manso, (London) delegate, J. H. Mensah, main speaker of the inauguration, Edward Osei Ampadu, Dickson Kankam Boadu and Agyemang Duah, (London) delegate.
d.) PICTURE NO. 4. :
Mr. Joseph Henry Mensah discussing a point with Mr. Edward Osei Ampadu, National Chairman of the GDM.
e.) PICTURE NO. 5. :
Mr. J. H. Mensah in a memorable picture with Oheneba Oduro-Opuni on the 22. 04. 1984 after the Thanksgiving service on the successful inauguration of the GDM in Hamburg at Bei der Hopfenkarre, Tonndorf where a private reception was reserved for Mr. J. H. Mensah and delegation from London.
f.) PICTURE NO. : 6. :
A press conference organised by the GDM in Dortmund on the 06 . 03. 1987 which coincided with Ghana's 30th Independence Anniversary whiles Mr. J. H. Mensah assiduously addressing the participants.
( See the publication in the RUHR NACHRICHTEN, SAMSTAG - 07. 03. 1987.)
I extend my sincere condolences to the bereaved family worldwide, more especially in Ghana and the great OSONO party members for the loss of such a DOYEN politician.
Finally, with deep sadness and painful reflection of memories, l stand up firmly like a trained professional Roman soldier and SALUTE MR. J. H. MENSAH* as laid to rest forever, and a chapter in History has come to an end at his final journey to eternity.
MAY HIS SOUL REST IN PERFECT *
PEACE AMEN
Signed:
Oheneba Oduro-Opuni *
FOUNDING MEMBER NPP- HAMBURG*GERMANY
Dear Sir,
A TRIBUTE TO MR. JOSEPH HENRY MENSAH
My name is OHENEBA ODURO-OPUNI, a Ghanaian resident in Hamburg, Germany. I would like the editor of modern Ghana to publish the above special Tribute to Mr. J. H. Mensah, a celebrated Ghanaian politician who passed away recently at the age of 89 years.
POLITICAL RELATIONSHIP :
I am a FOUNDING MEMBER of the GHANA DEMOCRATIC MOVEMENT (GDM) in Hamburg, Germany from 1982 - 1992 until ban on political parties was officially lifted in Ghana. Mr. J. H. Mensah was my political MENTOR and learnt so much from him.
The above attached is my personal tribute and would appreciate it very much if you could please publish it for me. I would like to know when my tribute is equally published by modern Ghana.
Hoping to meet your usual cooperation and attention.
Sincerely yours,
Oheneba Oduro-Opuni
FOUNDING MEMBER OF NEW PATRIOTIC PARTY
( NPP) HAMBURG - GERMANY: