MTN Ghana Makes Strong Case For Digital Payment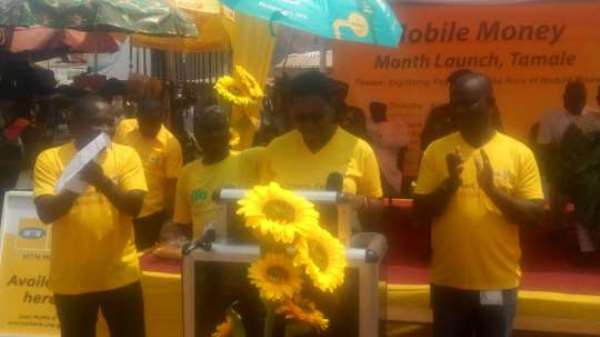 MTN Ghana has expressed the need for the country to move towards digitizing all forms of payment to enable individuals, institutions and the economy reap the benefits associated with it.
Madam Ruth Badoo, Operations Manager of MTN Ghana, who made the call, said digitized payments would go a long way to benefit the individual, institutions and the economy in general, as it would help for easy tracking of revenues made by institutions, reduce corruption, save money used in printing currency and improve overall efficiency in doing business.
Madam Badoo made the call in Tamale on Thursday when she launched this year's Mobile Money Month to educate the public on the need to use mobile money to undertake their various financial transactions.
She expressed excitement that 'Government has taken steps to make all of its payments electronically according to Vice President Dr Bawumia.'
She said 'For us as MTN, this is welcoming news because we have positioned ourselves well in the mobile financial services sector and invested in technology that will make all of these possible.'
She said 'with our over nine million active subscriber's, 100,000 agents, over 50,000 merchants across the country and 17 partner banks we are well positioned to lead to the digital agenda for all forms of payments in Ghana.'
Madam Badoo said MTN had also introduced payment options which were user friendly adding 'We make mention of the Near Field Contact, which we call the 'MoMo Tap To Pay Service', QR Code option, which we call Scan to Pay' and the wallet payment options.'
She said 'If all government payments will be made through electronic means, we can expand this further by making the payment of all goods and services via MTN MoMo. We want a situation whereby all forms of payment is made via mobile money.'
She said MTN had been making quarterly interest payments to all active mobile money subscribers adding, 'A total of GH¢98.9 million has been paid to customers as at the end of July, this year'.
She was confident that with digital payments through Mobile Money, the country would be gradually increasing financial inclusion and ultimately have a cashless economy.
Lieutenant Colonel (Lt Col) William Kwabiah, Commanding Officer of the Six Infantry Battalion, who was the guest of honour, called on mobile money operators to inculcate safe practices on the mobile money payment system to reduce fraud.
Lt Col Kwabiah said this would enable people to have confidence in the mobile money payment system to further increase its patronage.