Effective Internal Audit Service Key To Corruption Fight - President Akufo-Addo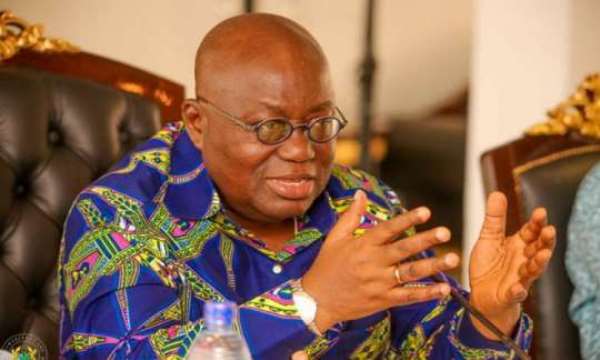 The war on corruption cannot be won without the active participation of an effective Internal Audit Service, President Nana Addo Dankwa Akufo-Addo has stated.
Speaking on Wednesday at the 2018 Internal Audit Conference being organised by the Internal Audit Agency in Accra, he emphasized that a good internal audit structure, coupled with good governance, was the panacea to the illegal dissipation of public funds.
President Akufo-Addo was emphatic that if internal auditors were to discharge their mandate dutifully, the public purse would be protected from pillage by public officials, thus, putting the country on the path to progress and prosperity.
He said the anti-corruption war being waged by his administration, would not achieve its desired outcomes without the active participation of internal auditors, saying, 'this is not a battle I can wage or win alone.'
'There are many layers to the protection of the public purse and internal auditors are its primary defenders.
'There is no better way to keep the confidence of the people than to make public institutions work effectively,' he stressed.
The President was not happy that 60 years after Ghana's independence, the country had not been able to meet the aspirations of the people.
He stated: 'During these 60 years there have been many moments of renewed hope, where we have felt that we have yet another opportunity to get things right . Some of these opportunities have largely turned out to be unfulfilled leaving the people with the sense of betrayal'.
President Akufo-Addo was also unhappy about the wide spread dissatisfaction among the general public about the integrity of dealings in public institutions, making it clear that his government was determined to restore the sense of hope that was generated when he assumed office in 2017.
'I am determined that the sense of hope that was rekindled on 7th January, 2017, will not peter out. I know that there is no better way to retain the confidence of the people than to ensure that public institutions work.
'I know that I shall keep hope alive when people believe that both the government I lead and myself are serious about the fight against corruption in public life'
The President was optimistic that if auditors discharged their duties creditable within the ambit of the mandate, Ghana would be better.
He made reference to control measures put in place by the public procurement authority in the review contracts, which has in the past 18 months saved the country some GH¢1.6 billion.
'This is what can happen when our institutions work ', adding that 'we need to perfect all stages of our public financial management system to enable us to maximize the use of our resources," he stated.
He pledged government's support to enable auditors to fulfil their mandate to bring transparency and accountability into the public financial system.
GNA