CSIR-BRRI To Develop Insecticidal, Emulsion Paints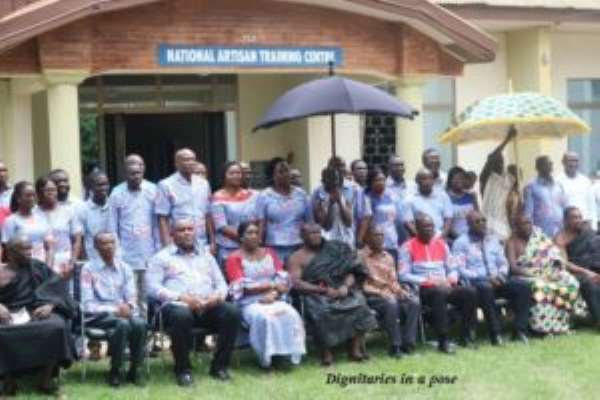 Scientists at the Council for Scientific and Industrial Research-Building and Road Research Institute (CSIR-BRRI) have started processes to develop insecticidal and emulsion paints in Ghana.
The move is intended to offset the huge bill on imported paint and save the cedi from further falling in future.
It will also save the surge in housing industry where several millions of cedis are spent to import these contemporary paints.
The announcement came at the observation of the 60th anniversary of the Council for Scientific and Industrial Research-Building and Road Research Institute.
In a presentation to mark the occasion, Dr. Ama Togbor, a research scientist in advanced materials, revealed the Institute is into development of insecticidal and emulsion paints. According to her, some clay and limestone and other materials which occur naturally in Ghana have already been identified.
Dr. Ama Tagbor also indicated that, there are essential oils from naturally occurring plants, which could be extracted and added to the paint to have insecticidal emulsion paint by a defined preparation.
Among some of the scientific breakthrough by CSIR-BRRI are waste plastic modified blocks, termite control technology on building, the usage of drone technology monitoring-built environment, Mobile Mapping Applications, establishment of land boundaries, consultancy in audit controllers (Tech-Kejetia road), installations of transmission towers for Ghana Broadcasting Corporation (GBC), dam extension at Achiase and Barekesse.
The female scientist further disclosed that the Institute conducts chemical analysis into construction materials such as water, sand and others in the laboratories, to find out whether they meet the standard, adding that on the field, they paste the natural durability of construction materials.
She noted: "We are also into termite control of building and building size, identification and development of lesser known species of timber for construction and rubberlised pavement block or waste plastic mixed soil to produce pavement blocks."
The Institute also has termite technology in which construction sites are treated or when the house is already infested, we stop termites from damaging doors and window frames.
On chemical analysis of building materials, Dr. Ama Tagbor further stated that they have analysed cement, sand, water, clay, aggregate and limestone to meet the standard for construction.
The Chairman of CSIR Council, Prof. Kingsford Adaboh, charged scientists to get out of the bowels and let the world know the good job they are doing for Ghana and beyond.
He noted CSIR-BRRI has achieved a lot as an organisation and urged scientists there to educate Ghanaians on the kind of work they are rendering at CSIR-BRRI.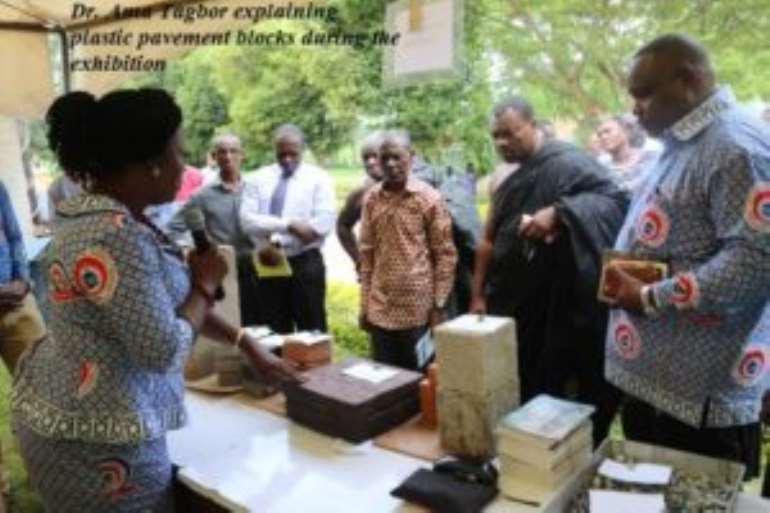 He said: "You may do a lot but if people are not properly educated to know what you are doing, you do become irrelevant and this is what I think you should work very hard and address," he said, asking "what do the ordinary Ghanaian think about CSIR-BRRI. Many people are looking for solutions to their problems, but if they are not aware of what you have to solve, then they will not come to you."

He noted that there are many constructions done by highly inexperienced people because they do not know where to turn to for genuine service, which situation has contributed to constructional problems in Ghana.

Prof. Kingsford Adaboh was happy about the CSIR-BRRI breakthrough in pozolana mixed cement and charged CSIR-BRRI to propagate the good news about the organisation.

Ing. Dr. Eugene Atiemo, director of CSIR-BRRI noted that the vision of BRRI is to become a centre of excellence that offers a one-stop service, research, training and technology transfer, construction and consultation sectors, as well as promoting the conduct of demand-driven and problem-based research, providing training in technology transfer that links effectively into the socio-economical development of Ghana, particularly in the building, road and transport industry.

According to him, the institute's mandate is to undertake research on all aspects on road and building designing and construction, with the view to ensuring efficiency, safety environment and develop construction materials from local sources to reduce construction cost and make housing affordable.

He mentioned that CSIR-BRRI has eight divisions, five of them being technical and three non-technical. The Technical division comprises Geotechnical and Materials Engineering, Built Environment, Transportation Engineering, Geoinformatics and Advance material Science.

Dr. Atiemo revealed some of the work of the organisation as the design and construction of timber bridges, which he said, are 50% cheaper than the concrete bridge in terms of durability, citing the Kaase Bridge over River Subin as an example.

Mr. Eugene Atiemo explained that CSIR-BRRI's next step in future is to establish asphalt and bitumen laboratory to be a major research, development and consultancy in the aviation, road and habour sectors.

He continued that they are seeking to explore the use of advance traffic formation system to manage traffic from congestion in Ghanaian cities, improve the area of engineering science such as polymer, plastics and pipers, bitumen , asphalt and others as well as research in waste plastics, modified aggregates for road construction and plastic in mortals for shelter facility.

Pix 1: Dignitaries in a pose