"I'll Be Back," Says The Pugilist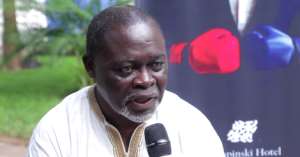 Gordon Offin-Amaniampong writes
'Ayekoo' Azumah Nelson. Ayekoo Ogorowhe --wo'agoro pe nhwe.'.
Katakyie ' I salute you. Opusunyaka Ayekoo.!
I don't have much to say today. But I've got a token to share. Something small for takeaway. Was it the first street or the second street? May I ask: Was it the third round or the 15th round? Did it come from the Bukom kingdom or the Madison Square.. which one?
Where did it happen? When did it happen? How did it happen? You'd all the answers. You knew them all from the get go..and you said it eloquently: "I'll be back.' You said it even when you'd visited the canvass. You spoke it even when your feeble feet were wobbling and your commanding legs couldn't carry you any longer.
I say ayekoo. Ayekooo Okofo Kwabrafo. Ayekoo professor Zum Zum!
The Bukomite, was like a kite in the sky flying high. You carved your destiny like the wood carver. You fought like a Bison. Your strength was impeccable and your pace was unmatched. The Sun was rising ,yet they didn't see. The Star was shinning yet they couldn't fathom.
You're notoriously known to be a strong fighter. You're widely known to be the greatest African boxer of all time. Where do you stand now? You're currently the 17th greatest pound for pound boxer of all time in Boxer's ranking. You held the WBC featherweight title once and the WBC super featherweight title twice.
36 years ago today, something happened somewhere in continental North America,. You were fighting Mexican Salvador Sanchez. The Bukomite had sprouted like a mushroom. Unknown to the west, perhaps untested and unseasoned. But he'd everything to gain and nothing to lose.
a writer said this about a group of Ghanaians that went to the Madison Square in New York City to cheer then unknown 'Professor Azumah Nelson:
"A noisy contingent of fellow Ghanaians in the stands chanting and cheering, took the fight to Sanchez with a vengeance,"a sports journalist wrote.
I'll let you speak now. Speak my hero. Speak!
.."One of my managers came and said that listen we've a world title to fight..can you fight? I said yes. Before I said when? And he said two weeks time. I said Ok ..yes I'll fight at Madison Square.
The Champion Salvado Sanchez …the guy that he's supposed to fight had a problem he couldn't fight. So they've to find somebody. The coach that I'd they didn't give him the visa to go. so I've to get some coach who I am not familiar.
The day for the fight I couldn't get my mouth piece..so I've to go to the store and get and buy amateur one. When I put it in my mouth it''s too big so we took a knife to cut it..and when you cut a plastic you know how the mouth is sharp..and there's nothing we can do" so I've to use it like that.
Don King told my opponent I'm very strong but I didn't have too much experience and don't stop him in the first round take him to the third round and knock him out. So everybody know that they gonna take him down in the third round.
Larry Holmes the commentator at the time said now we know this guy can fight. And the sixth round hit he throw a left hook and cut on the mouth piece so my mouth cut. But I sad to myself well you don't care you've nothing to lose so let's go...because I want to be a champion and I know I'll be a champion..so I just keep fighting and the 15th rounds my legs couldn't carry me anymore I went down I woke up and they just stop the fight and I said I will be back.."
And the rest is history!
The 1982 clash between featherweights Salvador Sanchez and Azumah Nelson. It was Sunday. It was a dream fight and the dreamer made the dream. Boxing legend Azumah Nelson is a real champ. Professor, yesterday was your 60th birthday. And it's my turn today to celebrate you as an icon. Today I celebrate you as one of my heroes. Bravo, Brakatu. Ayekoo Barima!!!