Floods Cause Havoc In Tamale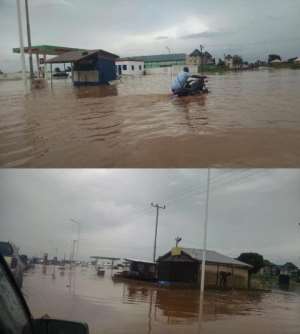 Some parts of the Northern regional capital, Tamale, got flooded following a heavy downpour on Thursday afternoon, July 5.
The rains, which started at around 12:00 pm and lasted for about one and half hours, left many people homeless.
Areas that were most flooded included Shishegu and its environs, Gumani and Nyankpala.
The rain and its resulting floods consequently caused massive traffic on the main highway from Tamale to Nyankpala, forcing people to park their motor bikes and vehicles out of the situation.
Several frustrated commuters called on the police and other authorities to intervene to control the traffic.
Fuel stations and some shops, including some houses along the highway got flooded as a result of the heavy rains.
No casualties have been recorded as NADMO officials assured that everything was under control.