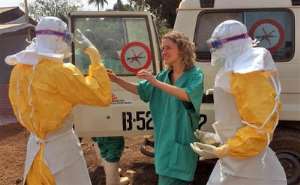 Ebola in West Africa: Health workers ready for action
Filoviruses Ebola, Lassa, and Marburg are lethal hemorrhagic fevers. The hemorrhage of Ebola infection is caused by adhesion of viral particles to the endothelial lining of blood vessels via a specialized glycoprotein.
The result being an infection of, replication in, and damage to, the endothelial cells. The disease is usually fatal. Like a Trojan Horse Ebola virus enters blood cells by binding to the host cell's outer membrane and a portion of the host cell membrane then surrounds the virus and pinches off, creating an endosome (membrane bound bubble inside the cell).
The Ebola virus exploits substances within the cell to get deep into the cytoplasm where it can multiply. Cytoplasm is the substance between the cell membrane and the cell center. More than a decade ago, clinicians noted striking similarities between patients with Ebola and those with bacterial sepsis.
Two of them- Dr. David S. Fedson, a retired professor of medicine at the University of Virginia, and Dr. Steven M. Opal, a professor of medicine at Brown University- analyzed several studies that have shown that STATINS reduce viral replication in human diseases. They recommend FDA approved oral immunomodulary STATIN drugs which are directly available that can treat the symptoms of Ebola and cure patients.
Thomas Geisbert, an immunologist at the University of Texas Medical Branch at Galveston says: "when you look at the nitty-gritty details of an Ebola infection, a surprising fact surfaces: The virus isn't what ends up killing you.
It's your own immune system." The most extreme immune attack is the "cytokine storm." Although many viruses, like bird flu and SARS, can trigger this shock and awe assault, Ebola is probably the best at it. At the end of an Ebola infection, it's the cytokine storm that kills you," says virologist Christopher Basler, at the Mount Sinai Hospital in New York City.
CYTOKINE STORM IS CHARACTERISTIC OF FATAL EBOLA VIRUS INFECTION
Current thinking is that Ebola causes a cytokine storm by the way it affects dendritic cells. Uncontrolled cell infection by Ebola leads to an impairment of immunity with cytokine storm, coagulopathy, systemic bleeding, multi-organ failure and death.
Das published a review of ACE inhibitor and angiotensin-II receptor blocker use in a number of cytokine- mediated inflammatory pathologies and suggested that ACE inhibitors and Angiotensin receptor blockers have theoretical benefit in down regulation of the cytokine storm.
Those were some of the reasons why the Ebola attack team doctors successfully advocated angiotensin receptor blockers.
Inspired by Dr. Fedson's and Dr. Opal's thesis, Norwegian dermatologist Dr. Ole Martin Rordam, who studied the effects of Maculopapular Rash in Ebola patients, discovered that next to the sepsis similarities there are also remarkable similarities between patients with Ebola and those with organ inflammation, disruption of blood vessels and blood coagulation.
Dr. Rordam concluded that in the right combination, Statins, Angiotensin Receptor Blockers (ARBs) and Selective Estrogen Receptor Modulators (SERMs) are able to prevent, treat or/and ameliorate the complications and the effects of Ebola which include rapid demise or death, by reducing the burden of the virus load allowing patients time and opportunities to recover.
Dr. Rordam then studied and analyzed the specific required doses and strength per case, and developed a synergetic combination Protocol of antiviral drugs to treat and cure Ebola patients. With a bag full of medicine generously provided by Dr. Rordam and Concordia Medical, Willem Tijssen from The Netherlands accepted the challenge to initiate trials in Sierra Leone and engaged representatives from Sierra Leone to team-up temporarily.
Majority of patients showed remarkable improvement within hours and in most cases EBOV disappears within a time frame of 7 to 14 days. So far all patients who were administered with the Protocol have been discharged, free of EBOV.