The Quintessential kumasi Meeting- An Alluring Three Some Affair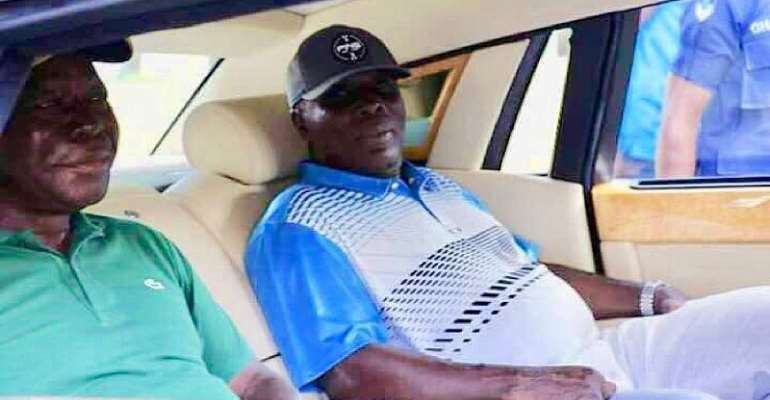 "Be ye angry, and sin not; let not the sun go down upon your wrath." Ephesians 4:26
IT COULD HAVE BEEN ANY two of our monarchs from Accra to Zuarungu; from Nzema to Ho. The epochal meeting of Otumfuo Osei Tutu II Asantehene and Osagyefo Amoatia Ofori Panin, Okyenhene, together with the President of Ghana last Saturday, will not only be for the photo galleries but must be recorded in the hearts and minds of all Ghanaians.
The three personalities had gone to the Royal Golf Club in Kumasi with Otumfuo and Okyenhene teeing off at the second Head of State Invitational Golf Tournament. You can call the President, Nana Addo, the referee or observer.
In the evening, Otumfuo organized a dinner for the important personalities who had honoured the golfing invitation. In his speech, President Nana Addo denied reports of any tension between Otumfuo and Okyenhene; he stated that he owed allegiance to the two monarchs as an Akyem and as an Oyoko to which clan all of them belonged. The President further noted that all traditional rulers, including the Asantehene and the Okyenhene, were crucial to the development of the country.
The Okyenhene seized the opportunity to demonstrate that, indeed, there was cordiality in the relationship between him and Otumfuo. He stated: "We believe in the traditions that brought us up and want to uphold them as we have done. We just don't want to remain traditional rulers but contribute to the development of the country…Our children should be able to say that they feel good about themselves but they feel better about their country." The Asantehene was taciturn that night.
Daily Graphic reports: "Recently, the Asanetehene accused some government officials believed to be Akyems, of leading a crusade to bring the Golden Stool into disrepute. President Akufo-Addo had to move to Kumasi to hold a meeting with the Asantehene following the Otumfuo's outburst".
Some people would want to forget the episode as quoted here, given the congeniality and amiability that have been demonstrated by the two monarchs. The conviviality has been profound, and our elders say: Efee akyiri nni abofono (loosely translated: after vomit, one doesn't retch or get nauseated again).
The importance of the royal meeting lies in the fact that their respective subjects react positively or negatively according to what they perceive them to be doing. As remarked by Honourable George Neenyi Andah: "…they (Otumfuo and Okyenhene) should make Ghanaians comfortable that whatever issues that seem to be coming up have been addressed or are being addressed".
Some of us are sometimes accused of "living in the past" because we get pre-occupied about our tradition and culture. Why should we or should we not be so accused? Professor K.A. Busia in his book: "The Challenge of Africa" with the sub-title "The Challenge of Culture" notes "… this quest for Africa's own culture, for something that is the unique creation of Africa's own peoples, is as much an aspect of contemporary African nationalism as are parliamentary institutions or development plans. It is one of the signs of Africa's emancipation. Physical enslavement is tragic enough; but the mental and spiritual bondage that makes people despise their own culture is much worse, for it makes them lose their self-respect and, with it, faith in themselves. Nevertheless, there is apt to be more emotion than rationality, more fantasy than objectivity in much that is portrayed as African culture". Do we have to accuse anyone who is 'pro-chieftaincy' as a person "harking back ominously to an anachronistic, primeval Africa?"
Some of us think there should be a constant interface between the present and the past. The Adinkra symbol 'Sankofa' depicts a bird which is moving forward, but with its head turned backward while its feet face forward with an egg in its mouth. Sankofa is from the proverb"" Se wo were fi na, wo san kofa a yennkyi" ( translated as: if you forget something and you return to pick it up, no one will blame you). Properly put, it means "You must reach back to redeem what you have lost in order to move forward".
The British whose language we speak and write, whose institutions of governance we have adopted, still maintain the monarchy, despite its apparent 'undemocratic' nature. Graham Smith avers that: "The monarchy is at the heart of Britain's rotten constitution." As the Chief Executive Officer of the political organization in Britain called "The Republic', he argues that hereditary power is 'absurd' and monarchy is "an outdated political institution that abuses its position, abuses public money and which gives politicians too much power". But whereas Denis Diderot, the French philosopher thought: "Men will never be free until the last king is strangled with the entrails of the last priest". Francesco Cripi intoned: "The monarchy unites us; the Republic would divide us". The Freethinkers and Puritans who left Europe for the New World (America) did so for religious and political reasons, but their home-countries maintained political absolutism and the authority of a church or a religion.
We can be emboldened to speak for the institution of chieftaincy when there is evidence that the chiefs of modern times help the society in its developmental agenda. No, chieftaincy cannot be anachronistic even in modern times, so long as it moves along with the necessary changes required of it. So long as it can demonstrate its relevance in modern times, chieftaincy can exist pari-passu (side by side) with our modern institutions.
If the British taxpayer will not see anything wrong in the existence of the royal monarchy in Britain, and be ready to foot a bill of £32 million pounds to see Prince Harry, the sixth in line to the British throne getting married to Meghan Markle, the same people should be charitable when it comes to issues of African culture, especially chieftaincy.
Asantehene Otumfuo Osei Tutu II and Okyenhene Osagyefo Amoatia Ofari Panin have shown the way. Let their subjects emulate them. They should reflect on the symbolism that their actions portray. Take note, and may it be noted: "African communities of the past, according to their opportunities and rights, and within their limitations, created the heritages that present generations enjoy-or are seeking to rediscover…Many adjustments are made necessary by the increasing interdependence of peoples, by the very need for survival in this highly technological age-this atomic age… (Africans) must establish new institutions. Their cultures must change and grow, but they must retain that identification with the past which gives every people its sense of uniqueness and pride". Need we say anything to dilute the preponderancy of this philosophical dictum by Professor Kofi Abrefa Busia?
Africanus Owusu-Ansah
[email protected]