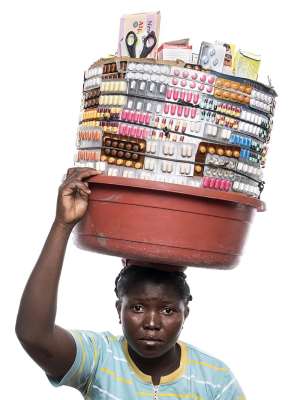 Selling medicine in Ghana is as ordinary as selling pure water. At every corner of our villages, towns and cities, there is sales of medicine. At the market squares, one can spot medicines neatly arranged on tables, the same way vegetables are sold under the scorching sun. And, oh, one does not need to spend time going to the pharmacy, you can get all the medicine in the world on passenger buses and vans. Our airwaves is flooded with all kinds of alcoholic beverages that heal all kinds of diseases one can mention. Is it because the nation Ghana lacks institutions and laws that regulate medicine trade or our laws approve what we are currently experiencing?
Of all the accepted wrong ways of selling medicine in our country, the sales made in passenger buses or trotro remains the topmost untraceable source of medicine. Assuming a passenger buys a medicine on a trotro at circle, kejetia or at the kotokoraba market lorry station, and falls sick or get complications, who do we trace the medicine source to? This is one of the reasons why trotro medicine must be banned.
Some of our ways of selling medicine in Ghana give fertile grounds for illicit drug business such as Tramadol business to thrive. Passengers consume fake drugs, expired drugs, abuse drugs and now consumption of opioids such as Tramadol has taken all over the country destroying our youth, because we refuse to regulate medicine sales in our country. Anyone can sell medicine anywhere two or more are gathered. Anyone who has capital can open a drug store and employ just anyone as salesperson irrespective of whether the person has the qualification of handling medication or not. Authorities are just looking unconcerned or lack the will to bring sanity into the system, whiles citizens whine helplessly, especially on social media.
#StopTramadolAbuse# campaign is waging on and the hashtag could be seen on the facebook walls of multitude of Ghanaians. Celebrities and politicians have joined the campaign. Radio and TV discussions have given a considerable amount of time to this phenomenon and the clergy have preached on the subject, but our youth is still abusing the Tramadol and other drugs, simply because we have failed to tackle a significant root cause of access to the drug. Regulate the sale of drugs and reduce the chance of abusing drugs by the youth, especially.
The first step in regulating the sale of drugs is to ban sale of drugs on trotro and all passenger vehicles. Ban sale of drugs on tables in an open space under the scorching sun at our market places. Most medicines, for example, must be stored in room temperature below 25 °C and selling medicine at market places or moving from one passenger bus to another is a clear breach of the right way of storing medicine. Any medicine spending days under the direct sun and probably kept above 25°C is not worth consuming. Toxic trotro medicine might be killing us slowly. Again, a lot more medicine sold in the trotro or at our market places might be expired and some do not even have dates at all. With the high illiteracy rate in our country and consumers failing to read medicine package before consumption coupled with the difficulty in regulating such medicine, the best way to deal with it, is to ban sales of medicine on trotro and at market places outright. Sales of all medicine must be limited to the drug store, where authorities must step up their regulatory responsibilities. Operation of pharmacies or drug stores must be reserved for professionals, who have received some training in handling medication. There must be a certificate to operate drug store and license to sell drugs and all unqualified persons plying that trade must be punished according to the laws of the land.
One could anticipate the usual chorus of "human face", when authorities ban trotro medicine. What work should I do? What would my kids and I eat? Government should provide alternative jobs to those sellers of drugs. Too much empathy make us weak as Ghanaians and too much empathy make us managers of weak institutions. Let us all arise and resist numerous practices in our communities that kill us every day. Every Ghanaian life matters.
Eben Johnson - Finland
Letters Without Signatures