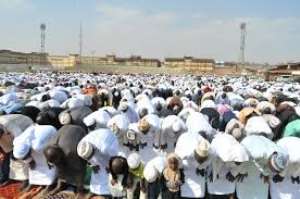 The Agona East District Assembly has donated a number of food items to Muslims to support their Ramadan fasting, which ends on Friday 15th June.
Speaking at the presentation, Mr Dennis Armah-Frempong, District Chief Executive (DCE) for Agona East said the donation would go a long way to encourage them during the period and called on Muslims not entangle themselves with issues not in conformity with Islamic teachings.
The DCE said the government of the government cherished the roles Muslims played in the development of the country.
Mr. Armah-Frempong said this had given birth to the creation of Zongo Ministry to ensure that Zongo communities in Ghana were developed, adding that development of the Zongo Youth is the top priority of the government.
He said the creation of Zongo Development Fund was a classical example of the NPP government's preparedness to ensure acceleration of infrastructural development to improve lives in Zongo communities.
Mr Armah-Frempong called on the Muslims to pray for the nation and government in power, adding that it is the responsibility of the Muslims to use this occasion to educate members to adhere strictly to norms of Islam.
The Agona Duakwa Chief Imam, Abdulai Haruna, who received the items thanked the DCE and the District Assembly for their support during the Ramadan period and said the items would be distributed to other members, especially the vulnerable among them.
He said the Muslims in the District had appreciated the good work of the government and they would continue to pray for peace and prosperity in Ghana.
Imam Abdulai Haruna urged Muslim Youth to desist from negative acts such as recklessly riding motorbikes before, during and after the Ramadan fasting. GNA