Smallholder Agriculture Mechanization Project Launched In Wa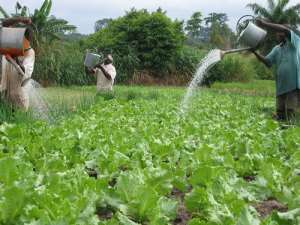 A Smallholder Agriculture Mechanization Project (SAMP) has been launched in Wa with the objective of bringing mechanization services closer to smallholder farmers across the Upper West Region.
The SAMP, funded by Alliance for Green Revolution in Africa (AGRA) under the Financial Inclusion for Smallholder Farmers in Africa Project (FISFAP), is being partnered by Agro Africa and Trotro Tractor Limited.
The project aims to improve agriculture productivity of 15,000 smallholder farmers through increased access to mechanization services.
Mr Amidu Chinnia Issahaku, the Acting Upper West Regional Minister, who launched the project in Wa said 'smallholder farmers were the main producers of the world's food and that they would have to increase production by up to 100 percent by 2050, if production would have to be in tandem with growing population'.
'The introduction of SAMP will go a long way to adequately address issues pertaining to increased productivity', he said.
He noted that government recognized the important role of smallholder farmers in the agriculture sector, hence the introduction of the 'Planting for Food and Jobs' project among other agriculture interventions to support the smallholder farmers to increase productivity.
He said with all the interventions, it was clear that government was moving away from paying lip service to the agriculture sector and adopting workable strategies to make Ghana food sufficient.
Mr. Paa Kwasi Awuku-Darko, the Programme Officer, FISFAP explained that the project sought to enable partnerships between financial service providers, value chain actors such as agro dealers and aggregators, and mobile network operators to develop appropriate and affordable (digital) products and services for (organized) smallholder farmers.
He noted that there was great untapped and underserved market potential for the development of a mechanized hiring service market in which medium and large-scale tractor - owning farmers provide hiring services to smallholder farmers.
He said AGRA through the Mastercard Foundation was therefore excited to support Agro Africa and TroTro Tractor Limited to develop a pool of 350 tractor service operators to offer hiring services for agricultural machinery through an innovative technology platform 'Trotro' Tractor Limited for 15,000 smallholder farmers.
Mr Emmanuel Amprofi, Representative of Trotro Tractor Limited said real farming happened in the North, hence the decision to bring the project to the Upper West Region which would later be extended to the Upper East and the Northern regions.
Mr. Kwabena Opagya, the Director, Agro Africa Limited appealed for farmer's cooperation and collaboration to make the project a success in the region.
GNA
By Prosper K. Kuorsoh, GNA