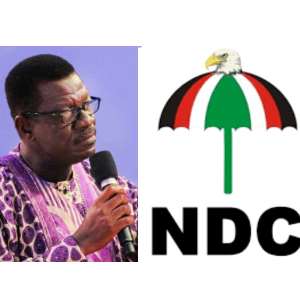 When a harmless but very critical remark made during preaching is taken out of context and made the focus of much discussions you have to wonder if the remark isn't true after all!
Pastor Mensa-Otabil of International Central Gospel Church is credited to have said something along the lines of "Ghana's media has nothing to teach therefore I prefer watching documentaries on animals for in that I learn more about God's creation and how to succeed in life"; and that is what has caused the hubbub. Such innocent sentiments meant to educate the Christian faithful but politicized in denial of it's truthfulness.
Two national figures in the National Democratic Congress, NDC, have come out with their own statements about the remarks of Pastor Otabil, one has even suggested that the Man of God should go and live in a zoo if he loves animals so much - an unfortunate remark considering that one's love for a food doesn't necessitate one becoming the food.
Was Pastor Mensa-Otabil wrong about his comment about the Ghanaian media?
Our TV and radio talk shows host person's inspired by their affiliation to a political party's interest to the detriment of the national interest; our idea of music is a cacophony of words stringed along to instruments; the right way to watch our movies without getting offended at the insipidity is to assume there was no script.
Writing as a Christian, even the Christian media in Ghana has nothing of value to offer the Church. Our magazines only feature persons who have profited off the brows of their followers; our TV stations mostly owned by pastors show "Christian" movies that are unbiblical; our radio stations are nothing short of circuit boards for anyone who claims to have a revelation into the running of the satanic world; and our music is an expression of our disturbed souls with it's talk of succeeding in material things . That goes for the majority of Christian media in Ghana.
So why would the Founder and General Overseer of ICGC spend his time watching animal tv?
I'm sure he had Psalm 19:1-6 in mind paticular verse 4 that says "...yet their message goes out into all the world, and their words to the ends of the earth..."
There is more benefit in watching documentaries of nature for they teach you of the magnificence of God and the responsibility of man. You can't watch the striving of an ant and be lazy. You can't see a wounded lion defending her cubs and have an excuse for giving up in life. There is no way you can look at a seed pushing it way under hard soil and not develop an entrepreneural spirit.
Tell me, does Dr. Mensa-Otabil belong in a zoo or it's rather the media which should camp at the zoo?