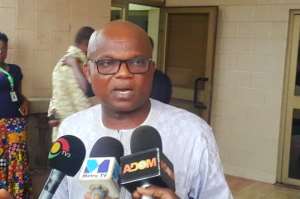 Dr. Nana Ato Arthur
"Though the central government is required by law to send the MMDAs the District Assemblies' Common Fund (DACF) (i.e. 7% National Revenue) to finance their development, it has been known that the DACF is not enough to meet the competing needs of the Assemblies. Again, the delayed disbursement is a source of worry and makes it difficult to plan," said Ing Dr. Nana Ato Arthur, Head of Local Government Service.
Ing Dr. Nana Ato Arthur was speaking at the capacity building workshop for selected 45 Metropolitan, Municipal and District Assemblies (MMDAs) on maximizing revenue from property rates. The program was put together in collaboration between CUTS Ghana, Local Government Service (LGS) and Institute of Local Government Studies (ILGS) with support from Oxfam in Ghana.
He added that, "as MMDAs, the law gives you the power to generate revenues from rates, fees and tolls, etc. to finance your development projects. Some assemblies are able to do well. However, generally, collection of IGF has been poor.. When it comes to property rates, the story has been the same. The over reliance on DACF as the only source of revenue needs to be broken." He added that the assemblies are sitting on gold but they are begging for bauxite.
He said added that "internally generated funds (IGF) is not up to 100%, the best performing district had 67.95% and the second runner up Tema, generated 54.45%. For those big districts, most of their IGF are from mineral royalties. Other districts without these royalties averaged only 2.09% of their IGF."
He furthered urged assemblies to enhance to their revenue mobilization efforts since it is through increased revenue can the developmental challenges be addressed. He admonished the MMDAs to take advantage of the Ghana Post GPS to make the collection of property rates easier.
Justice Samuel Kofi Date-Bah, Retired Justice of the Supreme Court of Ghana, and the Board Chair for CUTS Ghana, in his welcome address said "Ghana cannot continue to rely on aid money forever. The country needs to put in place measures that enable her to wean herself from donor money and raise the needed funds for development." He further mentioned that increased revenue from property rates would mean MMDAs can finance their development agenda without having to wait for Accra. This would also ensure substantial progress in the attainment of the UN Sustainable Development Goals.
Dr. Abdulai Darimani, acting Director of the Institute of Local Government Studies(ILGS), in his remarks mentioned that the ability of MMDAs to maximize internally generated funds (IGF) is a sign of efficiency in the decentralisation. He highlighted four key challenges faced in property rate collection as the unwillingness to pay, the inability of some to pay, lack of complete and comprehensive data, and inadequate skills of the property rate collected, and called for collaboration between government institutions, stakeholders, and opinion leaders.
The Country Director for CUTS Ghana, Mr. Appiah Adomako said CUTS in collaboration with the LGS and ILGS would come out with a manual on revenue rates collection in Ghana to guide the assemblies as well as contract template to guide MMDAs that would outsource their property rates collection.
CUTS is a public policy think-tank working in the areas of trade and development, competition and economic regulations, and governance and consumer protection across Asia and Sub- Saharan Africa. Established in 1983 and with its headquarters in Jaipur, India, the organisation has its regional presence in Accra, Nairobi, Lusaka, Geneva and Hanoi.