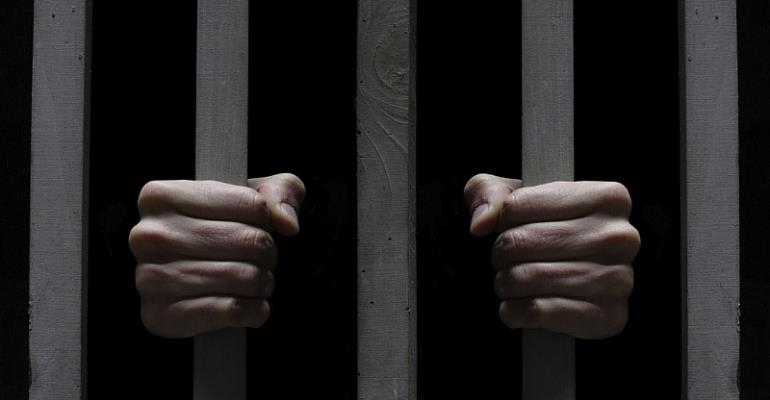 A 20-year-old unemployed who shot a real estate agent in the rib after robbing him of his mobile phone has been sentenced to 24 years' imprisonment in hard labour by an Accra Circuit Court.
Felix Kofi Boakye who hitherto was staying at Pig Farm in the Greater Accra Region, is said to have met the complainant who was returning from a business trip and robbed him of his Samsung mobile phone worth GH₵1,200.
He managed to escape after his escapade but was arrested by a mob five days later after he attacked a mobile money vendor At Akosombo Junction, a suburb of Madina and robbed him of unspecified amount of money and airtime recharge cards.
He was hauled before the court charged with robbery. He pleaded guilty to the charge and was convicted on his own plea.
The court presided over by Mr. Abogye Tandoh in sentencing the convict took into consideration his young age, his plea for mercy and the number of days spent in custody prior to his appearance in court.
He was subsequently sentenced to 24 years jail term in hard labour.
The prosecution led by Chief Inspector Kwabena Adu after presenting the facts of the case to the court, displayed the foreign pistol used by the convict, leaving many bemused as to how he got his hands on the weapon.
The prosecutor told the court that the complainant on February 14, 2018 at about 12:30pm was returning from a business trip and met the convict on a motorbike at A.R.S, a suburb of Ogbojo in Accra.
He said the convict approached the complaint, and while pointing a gun at his forehead, he took the complaint's Samsung Galaxy A5 valued at GH₵1,200.
Chief Inspector Adu narrated that the complainant sensing danger began to run while screaming 'thief' 'thief' and the convict went after him and shot him in the rib and rode off.
He said on February 19, 2018, the convict attacked a mobile money vendor at Akosombo Junction, a suburb of Madina but he was arrested and was nearly lynched by a mob, but for the timely arrival of the Madina Patrol Team at the scene to rescue the convict.
The prosecution added that the convict was taken to the police station where the complainant upon hearing about the arrest went to the police station to identify the convict as the one who robbed him.
BY Gibril Abdul Razak