Former DCE Says Agitation Over District Capital Will Destabilise Peace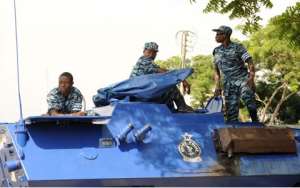 Mr Daniel Akologo, a former District Chief Executive of the Binduri District has stated that the call for the removal of District Assembly from Bengur could destabilise the peace the people were enjoying.
Speaking in an interview with the Ghana News Agency on steps taken by his administration to comply with directives by the High court within the LI 2146, the former DCE said the directives spelt out by the provisions of the LI were followed strictly under the watch of the then Regional Minister, Mr Mark Woyongo.
He said the LI which indicated an out of court settlement, led the assembly together with the traditional authority, and key stakeholders to make the necessary moves for the establishment of the District Assembly.
According to him, a committee to carry out preliminary talks with opinions leaders to arrive at a suitable site spelt out by the LI was done and the LI also defined that Binduri as capital had a number of sections including Binduri- Natinga, Zaago no.1 and 2, Bengur , Binduri Sarabogo, Bakango zuulugo and Bulugu termed as the capital areas.
'These areas are spelt out as the capital of Bnduri in the schedules to the LI 2146 as being part of Binduri' he added.
He said a committee represented by the Regional House of Chiefs, the Attorney General, a member of the Peace Council, National Youth Authority and the Regional Minister were constituted to carry out tasks of consultations which were carried through to find out which of the eight sections was suitable for locating the permanent office.
Complementing the works of the committee in coming out with the findings, the former DCE said at the handing over of the report, some of the stakeholders involved in the litigation walked out of the meeting, frustrating the efforts and the deadlines the Assembly had to work with.
He however noted that it was the efforts, commitment of the committee and citizens that inured into the putting up of the offices at current District Assembly in Bengur.
'If Bengur is not part of Binduri how come some chiefs and Assembly men are from that community, since the 1950s, chiefs have come from that area as Binduri chiefs,' the former DCE stressed.
He said the continuous agitations by the group was in pursuit of personal aggrandizement and only fomented hatred.
According to the ruling of the High Court, the assembly among other things was for the relocation of the temporal Binduri Assembly from Bazua where it used to be to Binduri within six months of the execution of the terms of settlement which ended in July 2014.
GNA
By Fatima Astanga, GNA