February 24, 2018
|
News Social News
Development And Investment Think-tank Unveiled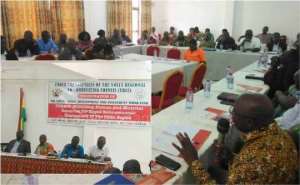 Ho, Feb. 24, GNA-Dr. Archibald Yao Letsa, Volta Regional Minister has inaugurated a development and investment think-tank to market and facilitate socio-economic development of the Region.
The Development Body, with the Regional Minister as its interim Chairman will provide development and investment buck-up services to the Volta Regional Coordinating Council and facilitate the Council's investment strategies.
Dr. Letsa at the inaugural ceremony said the think-tank, made up of 50 people from the academia and business would submit half yearly reports and plans for the Region's strategic development agenda.
'We want you to assist us to pursue vigorous development agenda of our region. Be our advocate. This is non-political. Let's help market the huge potentials of our Region,' he stated.
Mr Isaac Tetteh, Regional Director, Economic Planning in a presentation on investment opportunities, described the Region as unique with all types of landscapes, vegetation, soil and natural resources.
'This is the most eco-diversed Region. There are opportunities in sports, tourism, river transport, agriculture among others,' he said and asked the team to harmonise intellectual and material resources for speedy development.
The think-tank will have five sub-committees with a secretariat at the Regional Coordinating Council.
GNA
By A.B. Kafui Kanyi, GNA