February 18, 2018
|
Diaspora Diaspora (USA)
NPP New York Elects New Executives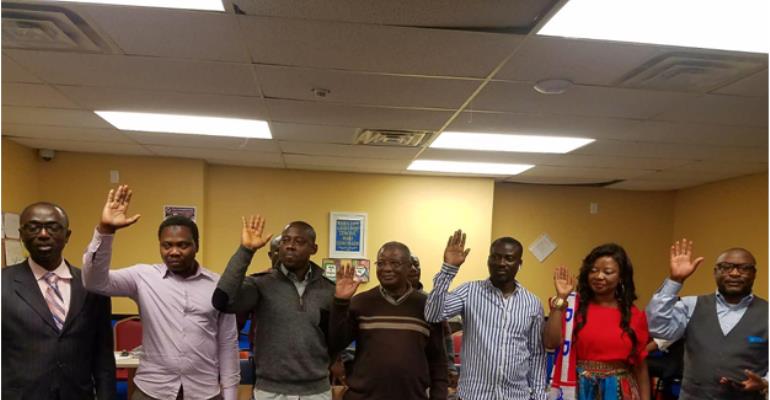 The New York Chapter of the NPP voted last Friday February 16th, 2018 to retain the sitting Chairman, Dr. Akwasi Achampong and ushered in a new crop of leaders who would assist him deliver his mandate.
Pursuant to the party's elections guidelines, the chapter has elected the following:
Dr.AkwasiAchampong, Chairman; IssahBallah Saeed, Vice Chairman; Frank Antwi, Secretary; Tahiru Ali, Treasurer; Sanni Ibrahim, Organizer; Paulina Asantewaa, Women Organizer; and Adams M. Ziblim, Youth Organizer. MuftahuMaazu was appointed as the new Public Relations Officer.
Swearing in the newly-elected officers, the Consul General of New York and Deputy Ambassador to the United States, Professor (Emeritus) Samuel Amoako charged them to discharge their duties assiduously to retain the elephant party in power in the 2020 elections, to continue with the numerous pragmatic programs and policies being implemented by the President of the Republic, H.E. Nana Addo DankwaAkufo-Addo.
He also commended the chapter for its show of patriotism and commitment to the cause of the party.