Tribal Joke By Haruna Offends Amidu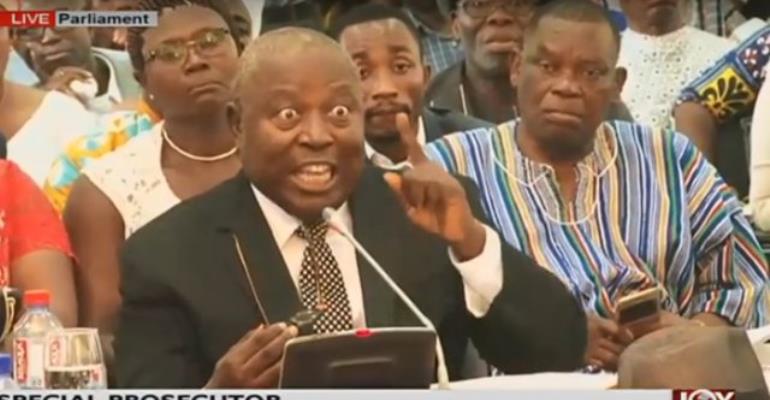 Nominee for Office of the Special Prosecutor, Martin Amidu, has taken offence at a tribal comment by the Minority Leader, Haruna Iddrisu, meant to be a joke.
Haruna Iddrisu indulged Martin Amidu to "settle [a matter] the Builsa way" which means beating up an opponent comprehensively.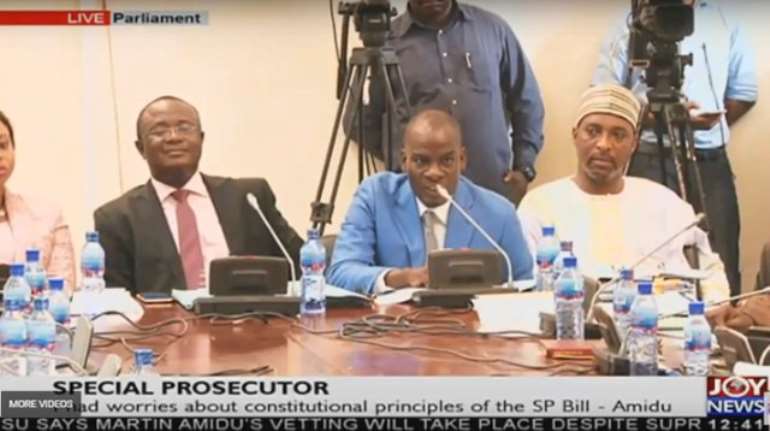 Photo: Haruna Iddrisu in blue, posing a question
But Martin Amidu who is a Builsa felt slighted that the Tamale South NDC MP had stereotyped his ethnic origin.
"It is unacceptable for the Minority Leader to use a tribal epic to describe my people...it is offensive to me," he told MPs on the Appointments Committee of Parliament, Tuesday, when he appeared before them for his vetting as the Special Prosecutor.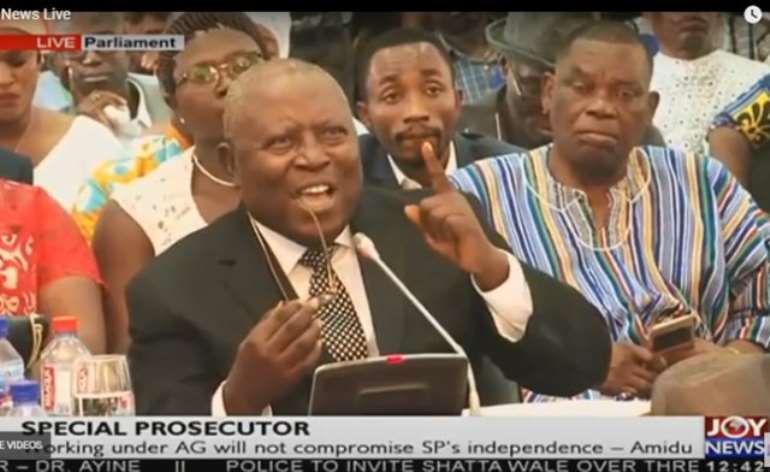 Martin Amidu said he would never use that expression to describe Haruna Iddrisu's ethnic group, Dagombas.
The chairman of the Appointments Committee, Joe Osei Owusu directed that the Minority Leader's comments be expunged from the records.
Defence Minister, Dominic Nitiwul later revisited the controversy pointing out that until the Builsa way comment irked the nominee, the term has always been taken as a light-hearted joke.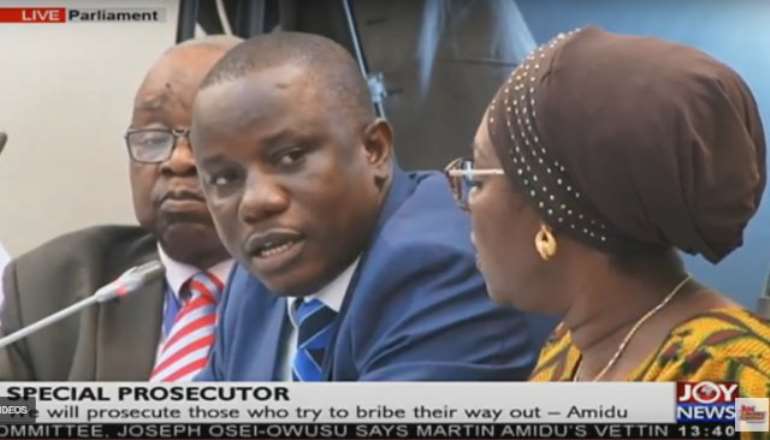 Photo: Defence minister Dominic Nitiwul
"I have used it several times," the Minister who is NPP MP for Bimbilla said and added, "until this morning I thought it very permissible."
Settling something the Builsa way is a popular term in the northern part of the country an ethnically dense area.
Former President, John Mahama has once used the term on the campaign trail.
John Mahama was reported on December 4, 2016:
"This year we want to settle the election the Builsa way; the Builsa way means that if you are defeating your opponent, you must defeat him in a way that he cannot argue, he himself knows you have defeated him, so this year we are going to defeat the opponent in a very convincing manner so that they will understand that yes we have defeated them, and that they should salute us."
Photo: Bulsa Feok festival Dancers at Sandema, Upper East Region, Ghana. Courtesy Alex Hadduck
Bulsa or Builsa erroneously called Kanjaga people are agricultural and pastoral Oti-Volta speaking people belonging to larger Niger-Congo language living in the Builsa District of the Upper East Region.
The Builsa people are believed to be amalgamated descendants of Gur-speaking Kasena blacksmith (kiok) from Kurugu near Dakai in Burkina Faso who built Kanjag Pung (tanggbain)."
Another version also relates that the Bulsa people are descendants of Mamprusi man Atugafrom "Mampuruk."
Buli is the primary language spoken by the Builsa people.
According to historian and anthropologist Captain R S Rattery, the origin of the Kanjaga town makes it abundantly clear that the Builsa people came from Burkina Faso.
Bulsa people who were seen as the best epitome of warriors and were once the best soldier recruits from Northern Ghana for the British colonial Gold Coast Army, have a documented rich repertoire of erotic folklore in Africa
Story by Ghana|myjoyonline.com| additional files from kwekudee-tripdownmemorylane.blogspot.com