February 9, 2018
|
News General News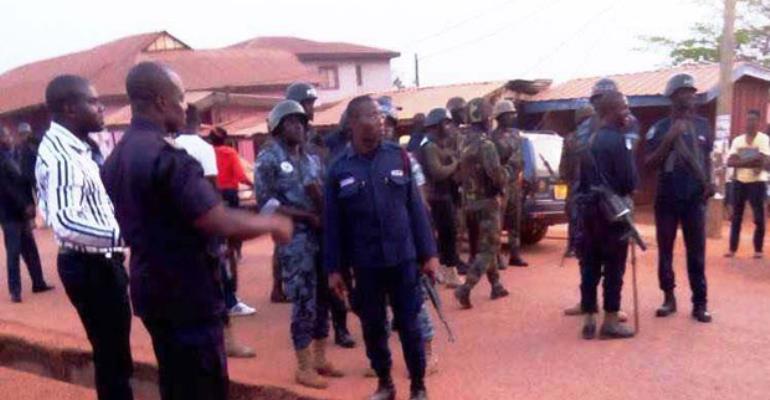 At least two people were killed at Foase in the Atwima-Kwanwoma District of the Ashanti Region after police personnel reportedly fired gunshots to disperse angry youth who were protesting against the relocation of the district capital from the community to Twedie on Wednesday.
Several others were said to have been injured in the incident that occurred around 12:00 at the premises of the District Assembly in the farming community.
The dead included a young man believed to be in his early 20s.
The angry protesters allegedly held the District Chief Executive (DCE), Nana Okyere Tawiah hostage in his office for hours and blocked access roads through the burning of tyres.
The deaths occurred when the security officers reportedly fired tear gas and warning shots to disperse the protesters in an attempt to rescue the DCE who had been locked in the office.
At the time of filing this report, 10 people were said to be receiving treatment at the hospital while there was heavy security presence at Foase to maintain law and order.
There have been nearly six years of protests against the relocation of the district capital from Foase to Twedie in spite of a Supreme Court ruling directing so.
DAILY GUIDE gathered that protest on Wednesday started after the DCE attempted to execute the orders of the apex court.
The Ashanti Region is gradually becoming a haven for notorious criminals and gangsters.
Residents, in recent times, have witnessed grisly gun-related violence, gangsterism and armed robberies.
After remaining dormant for some time, organised youth gangs today terrorize people in neighborhoods such as Ahwiaa, Tafo and Aboabo.
From Ernest Kofi Adu, Kumasi