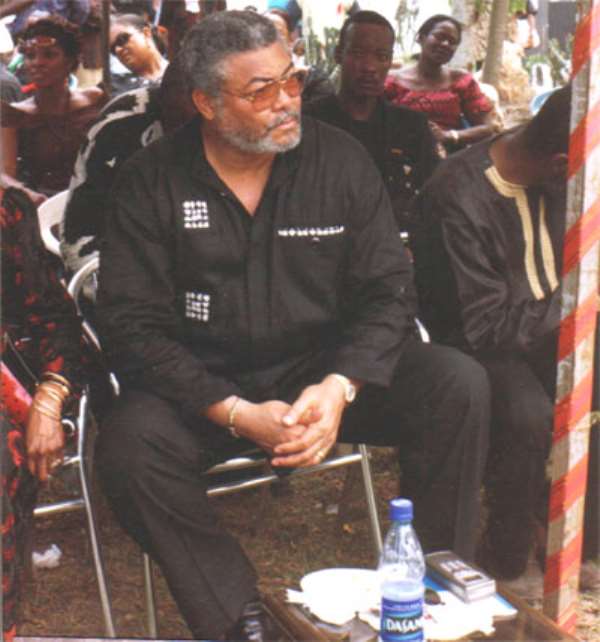 An emergency meeting, aimed at convincing Mr. Walid Ayertey Laryea, to withdraw from the forthcoming Odododiodio by-election, was yesterday held at the private residence of former President Jerry John Rawlings.
It was also meant to find an amicable solution to the problems within the Odododiodioo Constituency of the party. The meeting, which lasted close to four hours, was attended by the leading members of the party, including Mr. Rawlings himself, Mr. Victor Smith, his special aide, National Democratic Congress (NDC) MPs, Nii Lantey Vanderpuye, Mr. Laryea and few of his supporters. Mr. Rawlings, according to inside sources, expressed grave concerns about the current situation at the constituency, and pleaded with Mr. Laryea to step down for Mr. Jonathan Nii Tackie-Commey, the NDC candidate. This he noted would serve the supreme interest of the party. He expressed fears that NDC could lose the seat to the New Patriotic Party (NPP), considering the fact that the party's vote would split, if Mr. Walid refused to budge to the call. Mr. Rawlings was also reported to have called on his men to allow peace and tranquility to prevail within the party. Hon. Alban Bagbin's remarks, at the meeting, were not different from those of the founder's, as he also spoke at length to convince the independent candidate to withdraw his candidature.
Responding to the calls, Mr. Laryea did not state whether he would step down for the party's candidate or not, but indicated, until the problem of massive division within the party was solved, he would go ahead with his decision to contest as an independent candidate. He accused the constituency executives of playing favourites with Mr. Commey and until steps were taken to resolve the issue, he would still stand by his decision to go independent. It was however resolved at the meeting that immediate steps would be taken to streamline the situation to help pave way for Mr. Laryea to withdraw his candidate.
Regular visits would also be paid by leading members to enable peace to prevail. The political heat in the Odododiodio constituency is getting hotter and hotter, since the electorates are not certain whom they should vote for in the bye-election on August 30.