Weekly Media Clinic At Press Club Continues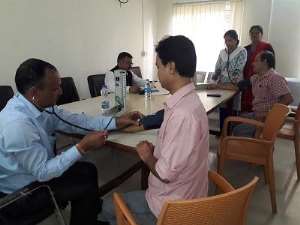 Guwahati: A unique weekly healthcare initiative has been taken up by an active press club of Assam in northeast India, where practicing physicians are invited to the club premises for free consultations. Often, blood tests for various parameters are also conducted in these Saturday outpatient department (OPD) clinics for diagnosing the health status of journalists with their family members.
The last camp, organized under the series of 'Evening with a Doctor' programs of Guwahati Press Club on 13 January 2018 was conducted by Dr Madhab Rajbongshi and Dr Hiten Chakrabarty from MMCH, Panbazar, where the member-journalists along with their dependants got free healthcare consultations from the visiting physicians and blood pressure checked by health worker Asif Mustafa.
Started with initial support from Dr Jayanta Bardoloi, managing director of Assam's well known Dispur Hospital in raising a doctor's chamber at the club premises, the series of health camps have already emerged as a healthy hangout for the media persons.
The endeavor has also helped in diagnosing journalists and their dependants with alarming high blood pressure, sugar levels and thyroid disorders. They were accordingly advised by the physicians for follow up action.
Till date, most of the hospitals based in Guwahati, which has slowly turned into a competent healthcare hub in eastern India, have supported the endeavour by sending their practicing physicians in rotation for the media clinics.
Professional doctors from Down Town Hospital, GNRC Hospitals, Dispur Hospital, Nemcare Hospital, Hayat Hospital, Ayursundra Hospital, Sun Valley Hospital, Barthakur Clinic, Wintrobe Hospital, Narayana Hospital, Rahman Hospital, Excelcare Hospital, Sight First Eye-Clinic among others have attended the camps. Even specialists from various distinguished healthcare institutions, based in other parts of the country, like Apollo Hospital (Chennai), SIMS Chennai Hospital, Manipal Hospital (Bangalore), Fortis Hospital (Bangalore), Medanta the Medicity Hospital (Gurgaon) among others have graced the camps.
They were simultaneously encouraged by the post-event coverage in both the mainstream and alternate media outlets. It may be noted that around 90% of media persons in the alienated region remain out of medical insurance coverage.
Most of the journalists, engaged with regional newspapers and news channels, earn small salaries and nominal other benefits. Hence, they can barely afford healthcare expenditures and often end up depending on financial aids from the government and donations from well wishers when medical emergencies strike them.