Angry Atwima Akrofrom Youth Chase Out Their 'Cruel Chief'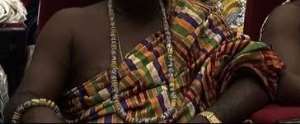 Some angry youth of Akrofrom, a farming community near Nkawie in the Atwima Nwabiagya District of the Ashanti region have vowed to chase out the chief of the area Nana Obeng Owusu, barely two months in his enstoolment, for what they describe as 'cruel leadership' and 'disrespect' to his people.
According to them, Nana Obeng Owusu after his enstoolment has unlawfully engaged in indiscriminate sand winning on the plots of some members in the community without their approval, and if precautions are not well taken, they will not be available plots for development.
The youth, on Tuesday, January 9, 2018, mounted a campaign in the community to demonstrate against the chief to 'warn' him to stop the indiscriminate sand mining in the community to save their lands for developments.
In a press conference on Wednesday, January 10, 2018, to buttress their displeasure, the angry youth are troubled over their future which hangs in a balance as the chief and his elders have shown very little concern to the development of Atwima Akrofrom community.
The leader and spokesperson for the youth, Nana Kusi Oboadum told Otec News' Jacob Agyenim Boateng that persistence plea and complaints to the chief have all fallen to his deaf ears, "the more we complain and plead with him, he does".
''What has broken the camel's back is that the autocratic chief has stopped all ongoing construction works in the community for over two months now ,we can see that the chief doesn't want the community to develop, as well as not wanting the youth too to get money out of those construction works," he added.
They also accused the chief of making life in the area a 'hell' for them by chasing them with police and land guards after they decided to resist his harsh leadership.
The angry youth explained that Nana Obeng Owusu is charging an exorbitant fee of GHC 4,000 for every plot of land owned in the community.
"The chief to charge GHC 4,000 is very cruel, it means he doesn't have the welfare of his people at heart and it shows clearly that the chief wants to strip us of our properties. About 90 % of the youth in the area here are peasant farmers and where can we get such a huge amount to pay," he angrily said.
"The youth here over number the chiefs and his elders and we can do everything to chase out the chief out of town, by any means necessary but we want to settle the issue peacefully to avert any possible violence in the area. We are warning him to stop harassing us and we also calling on the Asantehene Otumfour Osei Tutu to intervene to avert another 'Arab spring' here in our community," he warned.