Binatone, IFSS Fetes Skate Soccer Players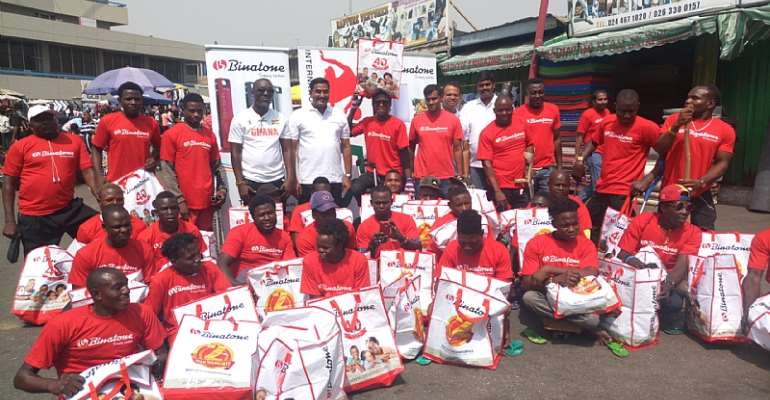 Electronic giant, Binatone in collaboration with the International Federation for Skate Soccer (IFSS) has presented food items to the players of the skate soccer team towards the celebration of Christmas.
Each member of the team took home a bag of rice, oil, Sardines, tomato pastes and other branded T-shirts and Calendar by Binatone.
The Managing Director of Binatone, Mr. Venu Babu said the purpose of the donation is to express their regard for the team by earmarking the festive occasion as another opportunity to celebrate with members of the team.
He indicated that his outfit is making arrangements with the players to make them distributors of the Binatone products adding that, once they are able to do so, it will prevent the players from going back to the streets to beg for alms as the case used to be.
Mr. Babu noted that as the titled sponsor of Skate Soccer in Ghana for the past two years, they are looking forward to see the best talents exhibited by these physically challenged persons to the admiration of many people in the country and world at large.
He added that their next aim after the IFSS African Cup of Nations is to go the world Paralympics which is their ultimate goal.
The Founder and President of the International Federation of Skate Soccer (IFSS), Albert Frimpong said skate soccer has been struggling for many years and until recently, took a new dimension when Binatone decided to be the titled sponsor for 10years.
He indicated that there have been series of matches played last year which were in preparation towards the International Federation of Skate Soccer (IFSS) African Cup of Nations (AFCON) in March this year.
According to him, Ghana played their first game in Accra between Togo in September, Nigeria in October in Lagos and Niger in December in Accra.
The team will play Ivory Coast in January in Accra, Burkina Faso in February in Accra and the bigger tournament in March 2018 in Accra.