DCE Advocates Craft Villages In Nadowli-Kaleo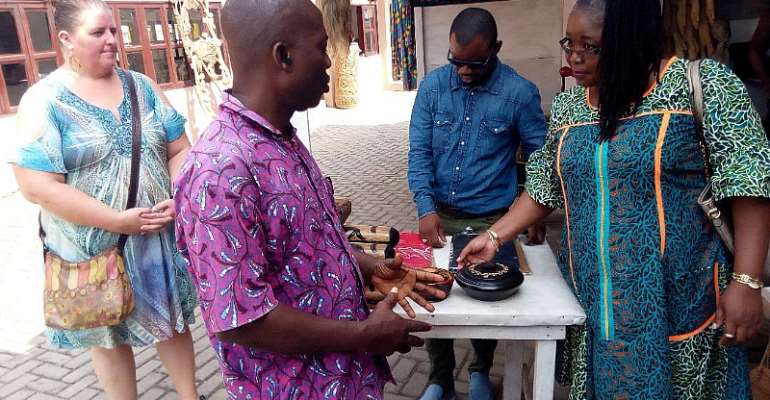 Katherine Tienyierr Lankono, District Chief Executive (DCE) for Nadowli-Kaleo in the Upper West Region, has advocated the establishment of craft villages similar to the Aburi Craft Village in all the regions of the country.
Ms Lankono made the call recently at the Aburi Craft Village in the Eastern Region.
Speaking to BUSINESS GUIDE in an interview, the DCE said, "I saw a post with pictures on one of my whatsapp groups, and when I took time to look at one of the pictures, I saw a an elephant figure and I was impressed with it."
Work on the Aburi Craft Village, initiated by the Aburihene, Otoobuor Djan Kwasi II, began in 2006 under the then Nsawam District Assembly.
Prior to that, it was known as the Antique Village established by Nana Bampoe to train unemployed youth in Aburi in wood carving for free.
The project was scheduled to be executed in three phases.
In 2010 116 shops were built under the first phase with EDIF, now EXIM funding through the Ministry of Trade and Industry.
Recently, the Ministry of Trade and Industry renovated its two meeting halls built by the Christian Council of Ghana in 1990.
The Ministry, through GEPA, has reiterated its commitment to the project.
Connie DeJong Kumordzi, an art lover, believes there are many talents at the Aburi Craft Village.
She indicated there are a lot of persons and agencies in US, who love crafts and said the government of Ghana stands to gain more if it develops and empowers craftsmen and women of the village.
Visitors to the village would also have the opportunity to view the cascading hills and valleys in and around the village through a telescope to be installed under the third phase.
Theodora Froko, Director for Handicrafts, Textiles & Garments at the Ghana Export Promotion Authority (GEPA), in the company of Bruce Bullu Liman, GEPA's content administrator, recently attended a mini-exhibition organised by the Aburi Craft Village and World Peace Corps of Ohio, USA, at the Aburi Craft Village.
The fair, which took place over the weekend, was used as rehearsal for the upcoming exhibition slated for April 2018 under the theme, 'Ofie Agudi.'
From Daniel Bampoe, Aburi