Teddy Braino Supports Hospitals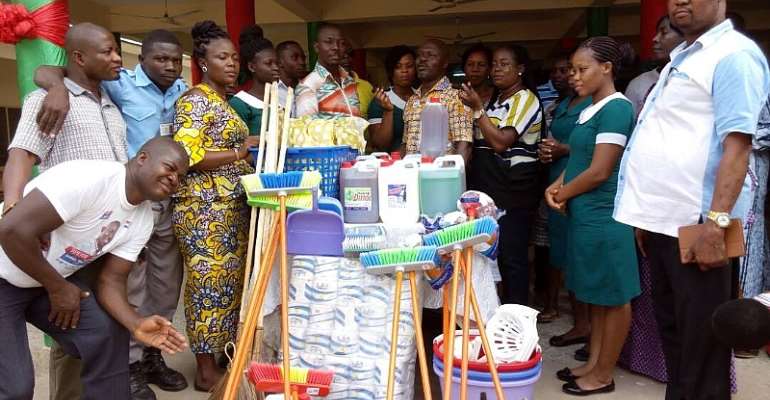 MR. SAMUEL NUERTEY AYERTEY, 2016 Parliamentary Candidate for Lower Manya Krobo Constituency in the Eastern Region on the ticket of the New Patriotic Party has donated to St. Martins and Atua Government hospitals respectively.
The items at an undisclosed amounts to the two hospitals are detergents, power zones, mobs, mobbing buckets, toilet rolls,scrubbing brushes, detols and brooms among others.
The former NPP PC presenting the items to the hospital managements, called on individuals and Civil Society Organization groups as well as Non - Governmental Organisations to always make it a point to donate especially to the health care centres within their catchment areas to help ameliorate challenges facing the health facilities as government cannot do it all.
He also advised the management and the staff of the hospitals to exercise patience when treating or dealing with patients who patronise their health centres.
He reiterated his commitment to donations to the hospitals and said that this wouldn't be last time he would be doing this but rather the continuation of what he has already started.
Receiving the donations on behalf of management at the Atua hospital, Mad. Marylove Nai-Williams who is the Deputy Director of Nursing Services at the Atua hospital praises Mr. Ayertey for his kind gestures and also make an appeal that the hospital needs an ambulance to help them in emergency situations.
At the St. Martins hospital, Mr. Briamah Alhassan who is the Head of Finance receives the items on behalf of management and the entire staff of the hospital.
He said the leadership of Mr. Ayertey worth-emulating and called on others to follow his footsteps. He said, he had a call that Mr. Ayertey is coming and to his surprise, Mr. Ayertey truly came with his entourage to make the donations.
Mr. Ayertey after the donation visited the facility maternity, female, male and Childrens' wards respectively in all the two hospitals as he spoke some words of hope into the lives of the patients and also present to them Christmas packages.