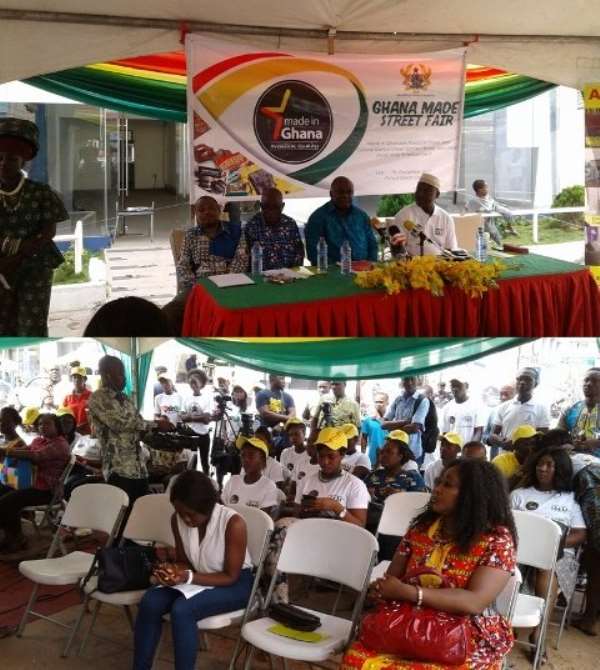 The Ministry of Trade and Industry has partnered Ghana Standards Authority (GSA) to launch the maiden edition of the Made-in-Ghana Street Fair in Accra to promote Ghanaian goods and reduce the dependence on imported ones.
The fair would also help to stimulate the demand for local products while ensuring quality and durability of Made-in-Ghana goods and services, as well as promote the adoption of high standards in the production, processing and distribution channel.
It is scheduled for Saturday and Sunday, December 16 and 17, and would be held on the Osu Oxford Street to create awareness of the availability of quality Ghanaian products.
It is also expected to attract more than 50,000 patrons and would be inaugurated and opened by President Nana Addo Dankwa Akufo-Addo.
Mr Carlos Kingsley Ahenkorah, a Deputy Minister of Trade and Industry, launched the Fair with Professor Alex Dodoo, the Executive Director of GSA on Friday.
Mr Ahenkorah said other partners including the Ghana Export Promotion Authority, the National Board for Small Scale Industries and the Association of Ghana Industries were collaborating with the Ministry to organise the Fair, which would be an annual event and would go beyond the Greater Accra Region.
The Fair, with side attractions including music festival, cultural show, outdoor events and a float, seeks to make Made-In-Ghana products the desired choice for majority of consumers in the country, expecting to draw more than 600 exhibitors.
Mr Ahenkorah said vendor categories such as handicrafts and gifts, food beverages, furniture and fittings, home supplies, textiles and garments, financial services, beauty and cosmetics, computers and electronics, transport and machinery, printing and publishing, pharmaceuticals, cleaning and toiletries would be showcased.
He said through such a fair, the Government was expected to reduce the country's import bill and improve trade balance including the use of financial tax incentives, penalties, tariff and non-tariff interventions.
This, he said, would be achieved through the commitment by all stakeholders to promote locally manufactured goods in line with the Government's aim of taking 'Ghana beyond Aid.'
He said it was important for products made from Ghana to be of premium quality to leverage its value on foreign markets, adding that from January, next year, all Ghana made goods would bear the premium quality logo after going through the standardisation processes at the GSA.
'We want to find a way to get our local manufacturers to improve on their market penetration and visibility. Some of them don't understand why they must spend money on, for instance, proper packaging and so on.
'So in effect we are devising a means for Ghanaians to actually take what they have produced seriously for our companies to be able to thrive and be able to also employ more people on the streets,' he said.
Mr Ahenkorah gave the assurance that the Fair 'is going to be fun, and will be something that families will love to come and see because it is safe,' adding that security would be beefed up to protect goods, properties and persons.
He implored Ghanaians to patronise the Fair, saying, 'Going forward we want to brand Ghana, we want to make Ghana a premium and we want to have that name, which if people pick they will say yes this is what I want.'
Prof Dodoo, on his part, emphasised that standards and quality were the language of trade and the Fair would help ensure Ghanaian goods and services met those standards required locally and internationally.
He said the job of GSA was to ensure that Made-in-Ghana goods were world-class and people patronised them everywhere.
He said a lot of Ghanaian products were exported without passing through the GSA and such goods were always returned when they got to Europe.
'Business is impersonal and about standards, and so Ghanaian manufacturers should endeavour to have their goods and services go through the proper standardisation processes so they would be well accepted,' he said. GNA
By Lydia Kukua Asamoah/Dennis Osei Gyamfi, GNA