Second Lady, Samira Bawumia Joins Campaign against Child Abuse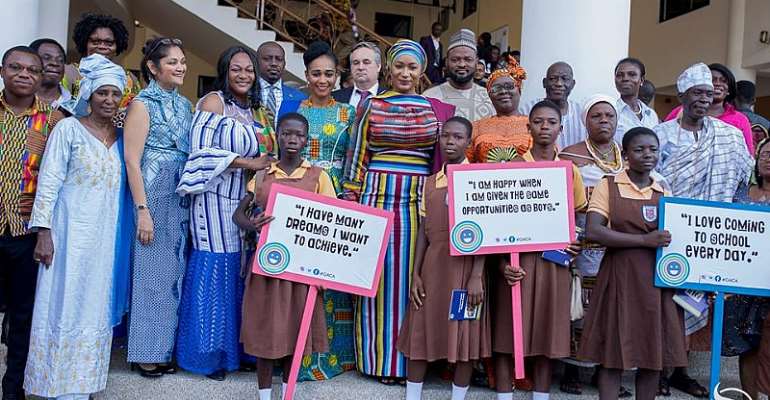 Second lady of the republic of Ghana, Hajia Samira Bawumia has joined the movement "Ghanaians Against Child Abuse" (GACA) to end child abuse in Ghana.
The movement was launched by the Second Lady of the Republic of Ghana Hajia Samira Bawumia to prevent all forms of child abuse, unveiled the GACA logo branding and message.
Delivering a keynote address at the official lunch in Accra Tuesday, Hajia Samira Bawumia expressed her unflinching support to the GACA movement to end child abuse.
"as a mother, ensuring the protection and well-being of children is extremely important to me. So today I pledge to be a GACA. And I personally pledge to support the call on all Ghanaians to take action against all forms of child abuse.''
According to her, media reports and statistics available on child abuse is alarming which has become a major concern in the country.
"Child abuse remain a pertinent issue of national concern given the number of child abuse cases that are reported and those which go unreported.
"More than 38.2% of adolescent girls between the ages of 15 to 19 are reported to have experienced acts of sexual violence, that is unacceptable" She noted.
GACA is in line with the Government's Child and Family Welfare and Justice for Children policies that provide the framework for strengthening the child protection system to prevent and respond appropriately to issues of child abuse.
Explaining more about the GACA movement, the Minister of Gender, Children and Social Protection, Honourable Otiko Djaba said it is a call for every Ghanaian to join the movement against child abuse.
''what we seek to achieve ultimately with the Ghanaians Against Child Abuse movement is to mobilize communities, parents, traditional rulers, families and individuals across our country to stand against all forms of child abuse.
"This call to action is for everyone to be committed to ensuring a safer Ghana for our children and put children first. We invite everyone to become a Ghanaian Against Child Abuse - I am a GACA and I call on you too to become a GACA." Madam Otiko pledged.
The initiative is a Government of Ghana project championed by the Ministries of Gender, Children and Social Protection and of Local Government and Rural Development in collaboration with UNICEF and partners encouraged Ghanaians to join a movement called Ghanaians Against Child Abuse (GACA).
Source: Abdel-Hanan Adam/ModernGhana