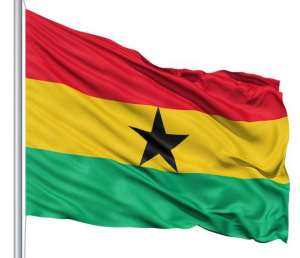 When I read a Washington Post 'Today's Worldview' column article by Ishaan Tharoor, entitled: "The millennial who could be Italy's next leader" that is about 31-year old Luigi Di Maio, who could apparently become Italy's next prime minister, I felt I had to share it with this blog's many aspirational young readers.
My hope in so doing, is that it will inspire those of them who care deeply about the well-being of our nation and also care sufficiently about the quality of life of their fellow citizens who aren't from the privileged classes, to want to fight to empower Ghana's base-of-the-pyramid demographic to enable them bootstrap their own individual successes - by either setting up social enterprises for that purpose or going into politics, for that same noble end.
The time has now come for the brightest and best of Ghana's younger generations to take their demographic's future into their own hands. They must take an active interest in how Ghana is governed. And they ought to speak out more boldly about the plight of the less privileged classes in Ghanaian society.
The need to strongly condemn the high-level corruption bleeding Mother Ghana slowly to death, and do something positive about the injustice that gets petty thieves swiftly prosecuted and jailed whiles super-wealthy mega-thieves such as the Alfred Agbesi Woyomes stay out of prison - by masterfully playing the legal system to successfully defy Ghanaian society: and hang on to the GHc51 millions purloined from the national purse. Enough is enough. Haaba.
Please read on: "The Washington Post Today's WorldView A daily newsletter that explores where the world meets Washington. Edited by Rosenthal and Kazi Awal. Article by ISHAAN THAROOR The millennial who could be Italy's next leader In Washington, Luigi Di Maio stood out. Trim and clean-shaven, the Italian politician is a generation younger than most of the members of Congress that he met this week.
But if the seemingly improbable occurs and Di Maio's once-renegade Five Star Movement emerges victorious in Italy's general election in March, the 31-year-old may join the growing list of youthful European statesmen as Italy's next prime minister. In France, 39-year-old Emmanuel Macron shook up the political system by siphoning votes from both the left and right into a new centrist political juggernaut. In Austria, 31-year-old Sebastian Kurz is poised to form a conservative coalition under his rule.
"Now is the moment of young people in Europe," Di Maio told Today's WorldView in Washington this week. "The entire political class is getting younger and younger." But few stories of political ascension are quite as striking as his. Di Maio, who grew up in the corruption-blighted environs of Naples, is a university dropout and has never held a job as a professional. Numerous headlines in international newspapers describe him as a "former waiter." He rose to attention only through his activism and blogging on behalf of the Five Star Movement, a protest organization founded less than a decade ago by irreverent comedian Beppe Grillo.
In 2013, the fledgling party capitalized on widespread disenchantment with the status quo in Italy and won close to 9 million votes in that year's elections — a staggering result that shook up the country's political landscape. Through the movement's unorthodox system of online primaries, then-26-year-old Di Maio became the vice president of the lower house of Italy's Parliament, the youngest person to hold the post. In the years since, the Five Star Movement has jockeyed with the Italian establishment, bringing down the center-left government of former prime minister Matteo Renzi last December after opposing his push for sweeping constitutional reforms. It's also vying against a resurgent right, with former prime minister Silvio Berlusconi — yes, the man behind the "bunga bunga" parties and myriad other scandals — at the helm of a coalition of right-wing parties.
In September, with Grillo's blessing and the support of other power brokers within the movement, Di Maio won leadership of the party in another online primary. Il Fatto Quotidiano, a daily newspaper, pointed to the online vote as "proof of the eternal immaturity, incompetence, inexperience and thrown-together nature of a movement that is getting bigger but not growing up." But to Di Maio and his allies, everything the Five Star Movement does presents a clear challenge to all that preceded their arrival on the political stage. "The movement was born out of the failure of both parties on the left and right," Di Maio said.
"The real problem in Italy is that there are many citizens who don't identify with these parties because they fail to defend the values and interests of different parts of the country." In this vein, it is not dissimilar to other anti-establishment uprisings in Europe. But the ideology of the Five Star Movement is remarkably difficult to pin down. The party advocates social and environmental justice, is skeptical of big corporations and uninterested in — though not totally opposed to — Italy's commitment to a military alliance such as NATO.
Yet it also is animated by a kind of libertarianism that is hostile to government and eager to loosen up the financial system. "It has a rightist facade, over a leftist basement, under an anarchic roof," explained Beppe Servergnini, an Italian journalist critical of the party, in a recent New York Times op-ed. Di Maio preaches a carefully moderate version of the party's amorphous politics.
Although he has his grievances with the European Union, for example, Di Maio does not reject it in the same way as anti-Brussels firebrands such as France's Marine Le Pen, Britain's Brexiteers, or even his own putative boss, Grillo. "We have no intention of isolating Italy. We have no intention of exalting nationalistic sentiments," Di Maio said, referring to parties on the far right in Europe.
"We reject absolutely the characterization of being called a 'populist' movement." On the sensitive matter of immigration, he toes a fairly conventional line, complaining of the unfair burden Italy has to shoulder as thousands of migrants and refugees seek to reach Italy from North Africa.
"We do not believe in physical walls, but we also do not believe in the invisible walls that do exist," he said, referring to E.U. rules that require would-be asylum seekers to remain in their first port of entry. "Italy is becoming Europe's refugee camp," Di Maio said. Like France's Macron, he urged that more be done to stabilize the political situation in Libya.
His party's critics highlight reports that the Five Star Movement has benefited from Russian disinformation campaigns, which Di Maio says are "fake news." "It's not Beppe Grillo who visits Putin every month," he quipped, referring to Berlusconi's close ties to the Russian president.
Happy Birthday Mr President Vladimir Putin !! Grazie Presidente Berlusconi ❤!!!! #lenzuolissimi #silvioberlusconi #love #vladimirputin #happybirthday #regalo #copripiumino #madeinitaly #lelenzuoladelpotere #300fili #happy #dreams #grazieditutto #special #amicizia #bestfriends #italia #instagood #instalike #instalove #bestmoment #follow A post shared by Michele Cascavilla (@michelecascavilla) on Oct 6, 2017 at 11:17pm PDT And it's Berlusconi who may ultimately be Di Maio's major obstacle to power.
The right-wing coalition anchored by the former prime minister's Forza Italia party won regional elections in Sicily this month, a vote seen as a bellwether for national elections. Five Star's Sicilian candidate, meanwhile, came in a close second behind Berlusconi's in what is a traditionally conservative part of the country, and Di Maio is taking it as "a good omen."
"I don't believe in a Berlusconi resurrection at all," Di Maio said. "Our movement has managed to dislocate the center-left, and I think we'll be able to do the same thing to the center-right." End of culled Washington Post 'Today's WorldView' column article by Ishaan Tharoor.