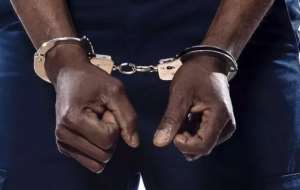 A 74 year-old unemployed, Matthew Obeng, has been remanded into prison custody for allegedly defiling a ten year-old primary four pupil.
The accused who appeared before a Tarkwa Circuit court, presided over by Mr. Emmanuel Bart-Plange Brew, pleaded not guilty and would reappear in court on Thursday November 23.
Prosecuting, Chief Inspector Faustina Celestina Anaman told the court that the victim lived with her mother at Cyanide, a suburb of Tarkwa and the accused resides at Railway quarters.
She said the victim sometimes assisted her mother to sell charcoal after from school.
Inspector Anaman said about two weeks ago the victim fell sick and the complainant noted she was constantly bleeding from her vagina so she took her to the hospital for treatment.
The prosecutor said the medical personnel who examined the victim at the hospital told the complainant that the victim had been defiled.
Inspector Anaman said when the victim was questioned; she explained that in September, this year, she went to sell charcoal to the accused who is a usual customer.
The victim said after handing over the charcoal to the accused he asked her to come to his room the money.
According to the victim, when she entered Obeng had sex with her, after which he gave her one Ghana cedi.
A week later, Inspector Anaman said the victim went to sell and again the accused had sex with her, but she failed to tell her mother because Obeng had warned her not to disclose what had transpired between them to anyone.
The complainant reported the case to the police on November 4 and the victim was issued with a medical form to attend hospital.
Inspector Anaman said the accused was arrested on November 6, but he denied the offense in his caution statement.
GNA
By Erica Apeatua Addo, GNA