Bremanman Marks Odwira Festival 2017 Edition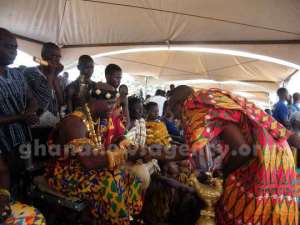 Mr. Kwamena Duncan, Central Regional Minister has commended the Chiefs and People of Breman Traditional Area for the peace and tranquility that they continue to enjoy.
Mr. Duncan gave the commendation at a durbar of the Breman Traditional council held to commemorate their 2017 Odwira Afahye at Breman Asikuma.
The festival under the theme 'Promoting Citizens Responsibilities for Bremanman's Development' commenced with activities including, Okyir, Bayerdi, Akwambo, Abangye, Egyato, Science and Mathematics Quiz.
The Region Minister said they are privileged to have a unique and rich festival which has contributed to the peace the area was currently enjoying. The Regional Minister urged them to sustain the peace and promote the development of the area to augment government efforts and gave the assurance that the area will receive its share of the National Cake to help them executive developments that has earmarked.
He said education was key for development and urged parent to do their possible best to educate their children.
Odeefou Amoakwa Buadu VIII, Paramount Chief of area in his address said despite the over 500 acres of cocoa land farms numerous tons of cocoa harvested from the area each year, they have been denied their share of the cocoa roads programme and appealed to government to fix their roads to allow free flow of farm produce and other goods and services.
The Paramount Chief disclosed that from the area's 2011-2016 strategic development document wasn't feasible and that a new structured five-year plan will commenced from November this year to November 2022.
'Every citizen of Bremanman owes the community a duty to contribute their quota to ensure that the new plan is well executed'
The Central Minister who was co-opted into the development planning committee officially launched the new development plan with a call on the citizens to honour their obligations to achieve their goals and objective in the plan.
Daasebre Kwebu Ewusi VII-Vice President of the National House of Chiefs and Paramount Chief of Abeadze Dominase Traditional Area was among personality who graced the occasion.