AngloGold Ashanti Security shoots Galamsey Operator
News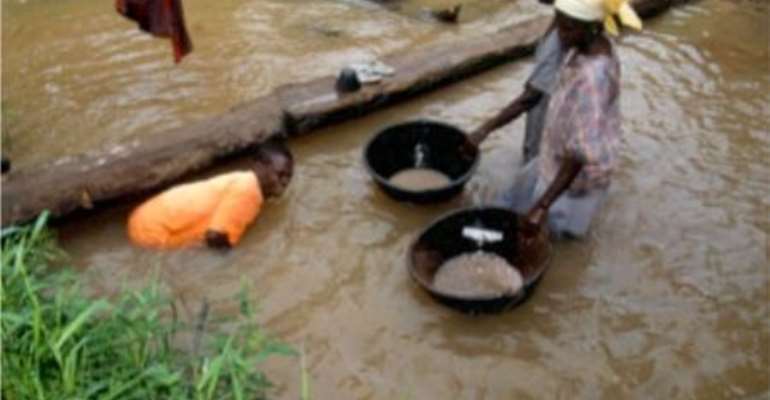 Accra, June 29, GNA - The AngloGold Ashanti Security on Tuesday June 21 carried out its threat to shoot small-scale gold miners on sight and shot Mr Awudu Mohammed, who had entered the Company's concession in Obuasi. Mohammed is on admission at "Ward B One" of the Komfo Anokye Teaching Hospital in Kumasi, after undergoing a surgical operation to have the bullet removed from his body.
When the Ghana News Agency visited the victim at the Hospital, he said he had entered the concession with some people to look for gold but the AngloGold Ashanti Security personnel shot him while attempting to scale a fence to run away. The Police Guard, who had the victim chained to the hospital bed, prevented GNA from continuing with the interview.
Giving a background to the incident, the Assemblyman of Sanso Electoral Area, Mr Benjamin Annan said Officers of AngloGold Ashanti Security, Captain Yaro and one Inspector Gyamfi came to him on Thursday June 16 and asked him to warn his people that AngloGold Ashanti would shoot on sight small-scale gold miners, who entered their concession in Obuasi.
He said on Tuesday June 21 AngloGold Ashanti Security carried out their threat and shot Mr Mohammed, who had entered their concession. He said the AngloGold Ashanti Security at first denied shooting the victim and alleged that he was an armed robber.
When the GNA called the AngloGold Ashanti Office in Accra, a Lady, who identified herself only as Millicent, said none of the officers, who could talk to the Agency, was around and declined a request to furnish the Agency with the cell phone number of any of them.