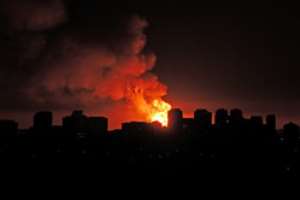 Residents of Ritz junction in Accra on Sunday staged a demonstration to demand the removal of a Gas Station located in the area.
This comes on the back of a gas explosion at Atomic junction on Saturday, that claimed seven lives and left several others injured.
The demonstration began at about 6:00am with over a hundred demonstrators.
The demonstrators gathered at the Gas Station in the area and refused to allow its operators to open for business.
It took the timely intervention of the Police to restore calm in the area.
According to an eyewitness, "they (the demonstrators) arrived here at about 6am numbering about a hundred. They were demonstrating that they wouldn't allow the Gas Station to operate today. This made the police rush here. On their arrival, they persuaded the demonstrators to calm down, and explained that because the tank has been filled with LPG gas, they should exercise patience till all of it is sold and will not be refilled.