Stabbed, Robbed And Left To Die—A Taxi Driver's Sad Story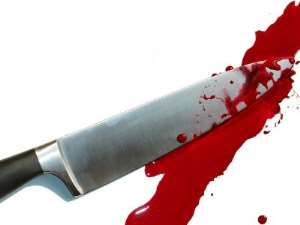 A 45-year-old taxi cab driver nearly lost his life when 2 robbers attacked him and made away with his vehicle at Duase on the Duase-Kenyasi-Antoa road in Kumasi.
Mr. Owusu, the victim narrating his ordeal on ategya program hosted by Abesiriwa, said his ash and yellow taxi with registration number AS 1617-17 which runs from Amokom to Dr. Mensah was snatched by the robbers at gunpoint.
He disclosed that he was on his way to Dr. Mensah when two well built men stopped him at Asaease near presby junction and asked to take them to Abura on the Antoa road which he agreed upon realizing the price was good.
"When the were about to reach Adenase one of them ordered me to stop but I realized the place was not safe so I decided not to stop so the one at the back seat slapped from behind and another also hit him with a gun, stabbed me in the abdomen, threw me from the car and sped off with it," he explained.
He described the robbers as chocolate colored men of average height and one had a scorpion tattooed on his shoulder.
According to him, but for the kind intervention of a good Samaritan who saw him in a pool of blood and sent him to Manhyia hospital at Asawasi he would have lost his life.