Vice President Bawumia At Commissioning Of Railway Sleeper Plant By LMI Holdings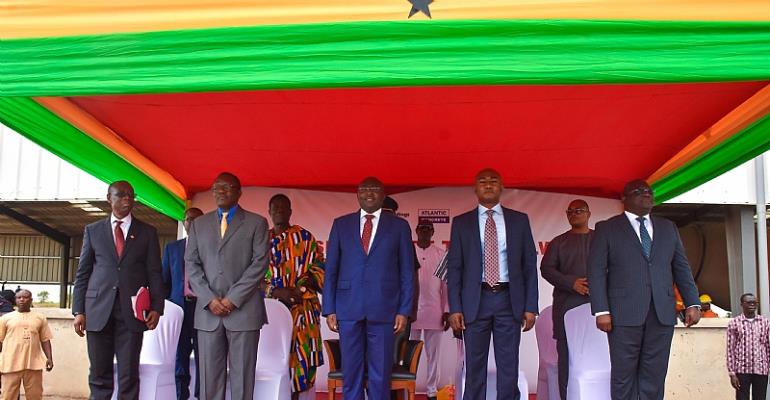 Honourable Deputy Minister for Railway Development

Mankralo and Acting President of Great Ningo Traditional Area

The District Chief Executive and members of the Assembly

Mr KojoAduhene, CEO of LMI Holdings, Directors, Members of the Board, Managers and Staff of LMI,

Director General of GPHA, Chief Executive of Free Zones Board,

Members of the Press


Distinguished Ladies and Gentlemen


It is my pleasure to join you, and the Management and Staff of LMI Holdings, at the commissioning of the Atlantic Concrete Sleeper Plant here in the Dawa Industrial City.

It is really a happy day, and this is a testament to the vision and hard work of KojoAduhene, the founder and CEO of LMI Holdings. What he and LMI Holdings have been able to accomplish is really remarkable, by all standards, national and international, and they deserve a big round of applause.

The government of Nana AddoDankwaAkufo-Addowants the private sector to operate in a predictable, stable business environment that will allow the private sector invest, expand, and be profitable, while also creating jobs and opportunities for our people, and therefore further commit to reviewing and/or amending all relevant laws and regulations that all too often stifle investments and the flow of business and transactions.

I am sure in getting to this day, it has not been an easy path for KojoAduhene and LMI Holdings, but they have stayed the course, and today we are all seeing the fruits of their labour.

Distinguished Ladies and Gentlemen, the importance of a well-run railway sector to the economy cannot be overstated. An effectively-run railway sector in Ghana will contribute to economic growth by significantly lowering the cost and timefor moving goods and people, and by extension, ensuring economies of scale and reducing domestic production costs. It will also open up the country and help enhance market access and opportunities

To this end Government, in reviewing its Railway Master Plan, has tried to ensure maximum private sector participation in railway infrastructure and commercial rail services development.

The Atlantic Concrete Sleeper Plant which we are commissioning today gives expression to the President's desire to transition the Ghanaian economy in the direction of greater local value addition. It is a much welcome project by LMI Holdings, and it will complement Government's job creation initiatives

Railway sleepers are a critical component of Railway infrastructure. I am informed that when operating at full capacity, the Atlantic Concrete Sleeper Plant will save Ghana up to US$27 Million per annum in foreign exchange. This is very significant.

The plant, and indeed the impressive industrial estate under development, will provide much needed employment to the residents of the surrounding communities and beyond

It is noteworthy that in addition to the Atlantic Concrete Sleeper Plant, LMI Holdings has been instrumental in the:


development of the entire Dawa Industrial City project which will provide 2,000 acres of industrial land with first class infrastructure to facilitate the establishment of industrial projects by investors

provision of infrastructure in the Tema Free Zone Area

establishment of the 100,000sqm Mega Warehouse International Logistics Centre in Tema, and

establishment of Ghana's first private electricity distribution utility, Enclave Power Company, with its ultra-modern high capacity substations in Tema and here in Dawa. These substations have become critical components of the National Interconnected Transmission System (NITS)


This is really a company that is on the rise. All these accomplishments by LMI Holdings is just one lesson to all of us, and that is, as Ghanaians, we can really do it. We have the capacity, we have the men and women, we have the entrepreneurs, and if we can only support them, and provide them the environment, the sky is the limit for them.

I have just been informed that LMI does not have a licence to build a railway line, even though they have the capability to build one. I will be talking to the Ghana Railway Authority to prepare your licence and whatever permits you need. We are not going to allow bureaucracy to stand in the way of developing this country.

All of these projects, together with the plant, are examples of what can be achieved when progressive traditional leadership is combined with private entrepreneurial capability, and are yet other manifestation of Ghanaian entrepreneurial acumen.

I want to remind you of your corporate social responsibility to the community. There are many people living in this area who could benefit from the projects you undertake. Also remember your 'bosses', your landlords, the chiefs and the Assembly, and make sure your relationships are the best.

I extend the hearty congratulations of His Excellency the President, and my congratulations, to the Directors, Management and Staff of LMI Holdings andwish you many more successes in the future.

Thank you for your attention. God bless you and God bless our homeland Ghana.