24 August 2017
|
Politics
Akua Donkor Challenges Government To Award Women In Politics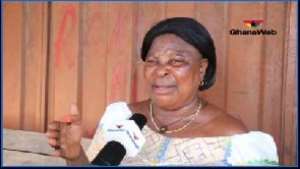 The Founder and Leader of Ghana Freedom Party (GFP), Madam Akua Donkor, has stated that Ghanaian leaders have neglected women in politics who toil to fight political battle successful.
Speaking to the media on August 23, 2017, the former Assembly Member for Herman electoral area in the Ashanti Region stated clearly that, though she commends the ruling government been on war front against corruption, but needs to appreciate brave women in the country, especially, those in politics in order to encourage the young ladies learn and fight for a brighter future.
"Women in politics must be awarded and appreciated for been on war front against the men, though, some might be defeated but they need appraisal in order to motivate the young ladies", she said.
In her conclusion, the controversial self styled politician and farmer, added that, in foreign countries, such individuals are recognized by the government, which helps to motivate the young ones as she was called to be recommended by one an American.