17 July 2017
|
Business & Finance
Investors' Confidence In GSE Budges Upward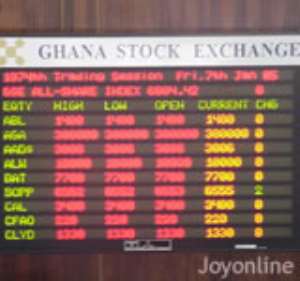 Accra, July 17, CDA Consult – Investors' confidence in the Ghana Stock Exchange (GSE) budged upward as inflation dipped further downward to 12.1 per cent.
In effect, the benchmark GSE-Composite Index rose by 2.3 per cent to close at 2,086.4 points, representing a year-to-date return of 23.5 per cent, total value traded was GHc8.1 million with a volume traded of 2.2 million shares, Nordea Capital Investment Stock Market analysis made available to CDA Consult in Accra, on Monday indicated.
Nordea Capital Investment wrapped-up of the second of July indicated that the bourse closed on a positive note as sentiments tilted towards optimism; nine equities experienced capital appreciation with a laggard.
Starwin-Dannex led the advancers for the week as the stock appreciated by half of its value and closed the week up at GHc0.03 per share.
Gains in heavyweights like Standard Chartered 23.2 per cent helped the bourse rise further north, and SCB closed the week at GHc21.95 per share whilst HFC Bank gained 21.4 per cent to close the week at GHc0.68 per share.
ACCESS added 4.7 per cent to GHc3.98 per share.
The Ghana Oil Company Limited (GOIL) the nation's foremost indigenous oil marketing company climbed up by 3.6 per cent during the week to close trading at GHc2.04 per share.
According to stock market experts GOIL continued to make strides in the aviation and bunkering industries following the completion and subsequent launching of its marine gas oil tanks in the Port of Takoradi.
Agri-business firm, Benso Oil Palm Plantation also continued to generate investor interest, rose by 2.5 per cent to end at GHc4.52 per share and French Bank, Societe Generale edged up by 1.3 per cent to close at GHc0.76 per share whilst Enterprise Group Limited rounded off, it inched up by 0.4 per cent to GHc2.41 per share.
On the flip side, Ecobank Ghana on the back of selling pressure dipped by 0.7 per cent to close at GHc6.95 per share to emerge as the only laggard for the session.
A block trade in the shares of Standard Chartered last Tuesday saw the Bank account for the largest transaction value on the Exchange last week.
StanChart traded GHc4.4 million which represented 54.8 per cent of the entire turnover for the week.
GCB also recorded a block trade last Thursday and followed with a 17.2 per cent share of total value.
Nordea Capital is an investment bank, licensed by the Securities and Exchange Commission and offers a comprehensive range of services in asset management, research and strategy, corporate finance and private equity to institutional, corporate and private clients.
Nordea Capital is dedicated to growing and preserving client assets and building trust, in partnership with financial professionals and institutions worldwide.
The GSE is the principal stock exchange of Ghana. The exchange was incorporated in July 1989 with trading commencing in 1990.
CDA Consult provides tailor made development communication tools necessary for operational transformation and translating dreams into achievable goals and equips clients with mechanism for public education on specific issues.
It also provides effective back-up or frontline monitoring and evaluation tools to ensure value for money delivery of projects, whilst providing clients with skills to deliver timely and accurate information on their activities, work, programmes and projects.
CDA Consult is also aimed at building a responsive working culture for corporate growth through a social process at institutional levels based on dialogue using a broad range of tools and methods.
It also assists client to use continuous and adaptive process of gathering, organising and formulating information and data into argument and to communicate to policy-makers through various interpersonal and mass media communication channels.