Rawlings Pays Asiedu Nketia Back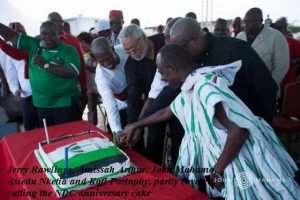 After saving the best for the last, Jerry Rawlings, last Saturday at Ashaiman, teased Johnson Asiedu Nketia as not being a handsome man and too skinny and light like the wind.
Mr Asiedu Nketia, popularly known as General Mosquito due to his skinny form, is the General Secretary of the National Democratic Congress (NDC).  He is also famous for spewing sour utterances.  Once upon a time, he described Jerry Rawlings as a caged dog.
Whilst in government, between 2009 until last year, most NDC party executives and some ministers and deputy ministers were described by Jerry Rawlings as 'babies with sharp teeth', and had given their founder sleepless nights for their disrespect for him and other founding fathers of the party.
Among those who gave Jerry Rawlings headaches was General Mosquito, who was politically nurtured by Mr. Rawlings. General Mosquito has always had his day, but last Saturday, in Ashaiman, where the NDC celebrated its 25th Anniversary, Jerry Rawlings sketched Gen. Mosquito, describing him as not handsome and skinny, and as light as the wind.
Asiedu Nketia, who appeared very late at the ceremony, sported a huge green smock, and like floating in the wind, climbed the podium to take his seat next to former President John Dramani Mahama.
When he had the microphone to deliver his speech, Asiedu Nketia used illustrations to describe the governance style of the Nana Addo government, and while he was unleashing the salvos at the present government, Jerry Rawlings elevated his neck to watch the Mosquito, without a smile or chuckle.
Not even his funny presentation of his excuse that he needed to be rushed to the venue on 'okada', after having been held in 'crazy' traffic at the Lashibi end of the Tema Motorway under-pass, could tickle Jerry to share a smile. Then, after ushering Jerry Rawlings in with a birthday song, because he turns 72, on June 22, he said: "Ashaiman and NDC…I think, today, you are entertaining me. You are bad…you are movers and shakers.
"I have noticed that John Mahama is not the only mover and shaker here…when General Mosquito arrived, I realised he is also a mover and a shaker.
"When the time comes…it is a pity he is not handsome. If he were handsome, we would mount him on the horse and ask him to help.
"Because he is lightweight like wind, the horse will gallop very fast," Jerry teased Asiedu Nketia, who, together with everybody at the Mandela Park, venue for the ceremony, burst into several minutes of uncontrollable wild laughter.
From Inusa Musah, Ashaiman