News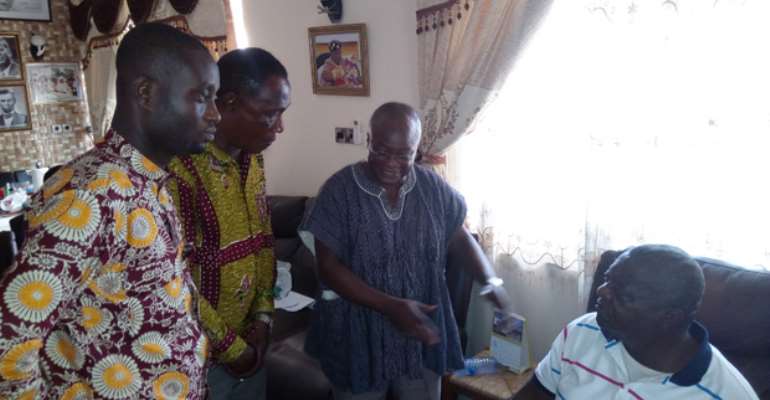 Otubuur Gyan Kwasi (seated) chatting with Isaac Kwadjo Buabeng (left) and the Constituency Chairman
Acting President of the Akuapem Traditional Council, Otubuor Gyan Kwasi II, who is the chief of Aburi, has urged Ghanaians in general and e members of the New Patriotic Party (NPP) in particular to exercise patience and pray for President Nana Addo Dankwah Akufo-Addo to deliver on his promises.
According to Otubuor Gyan Kwasi II, who is also the Adontenhene of Akuapem, God knows why he chose President Akufo-Addo to lead the country, adding that looking at his policies and structures put in place over the past five months, the president will not fail Ghanaians therefore they should ask for God's blessings and long life for him.
The Adontenhene, who made these remarks when the new municipal chief executive (MCE) for Nsawam/Adoagyiri, Isaac Kwadjo Buabeng, paid a courtesy call on him at his palace as part of his (MCE's) familiarization tour of the municipality, further entreated all NPP members to support the president to achieve his goals and  create jobs for them, especially the youth.
The Aburi chief hailed the president for making what he described as "good appointments," regarding the appointments of municipal and district chief executives in the Eastern Region, who were overwhelmingly approved by the various assemblies.
The chief recalled, "Ghanaians from every part of the country were suffering and were crying for a saviour who would bring them prosperity. That's why God chose Nana Addo to lead us. It's too early to judge his performance, that's why he has a four-year mandate. All we need is to give him support and prayers to deliver."
Otubuor Gyan Kwasi II noted that President Akufo-Addo cannot appoint everybody into his government, neither can he satisfy everybody and so the party executives should speak to their members to exercise patience and stop the blame games.
He prayed that God should bless, guard and protect President Akufo-Addo and the MCE to fulfill the mandate given to them by Ghanaians.
In his response, Mr Isaac Buabeng thanked the chief for his warm words, stating that "with your blessing and wise counsel, we shall delivery by God's grace. Nana will fulfill his promises; we only need advice and support to deliver."
The Nsawam/Adoagyiri MCE assured the Aburihene, "We have come to work for Ghana and not for any particular group of people, so we are poised to create jobs and create business opportunities for the people of Ghana, especially the youth."
The Nsawam/Adoagyiri Constituency Chairman of the NPP, Nana Akowuah Dampare, on behalf of the party, thanked the chief for his wise counsel and promised to work together with members of the party to support the president.
FROM Daniel Bampoe, Aburi