17 April 2017
|
Letters
An Open Letter To Kofi Kinaata: How You've Now Proven Me Wrong, And How I Seek To Prove You Wrong Too
Sir Article, Founder and CEO of Sircle Communications.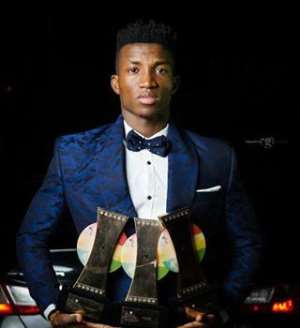 Dear Kofi Kinaata,
This is not a letter of sorrow and shame, but rather of joy and pride — no sarcasm intended!
But, in my case, several individuals — programme mates, family relatives, friends, haters, and the like — would write letters of regret with happiness to me in the next decade and beyond.
They would be blown away by the magnitude of my globally oriented success as a writing entrepreneur, for thinking I was mad when I dropped out of UCC to start Sirclecomm in Ghana.
Okay, first off, let me wish you a belated happy birthday (you even share the same birthday, i.e. 15th April, with my eldest sister Amanda).
I also congratulate you for winning 3 awards at the 2016/2017 VGMA's. Bravo!
Well, anyone reading this article — and especially you Kofi Kinaata — seems confused concerning how you have now proven me wrong, and how I seek to prove you wrong too.
Did we ever have any row? No, we didn't.
Then which past issue between you and I actually warranted this strange letter?
You and my readers, I know for sure, are apparently hazarding guesses to ascertain the obscure motive behind this letter.
Alright, let me satisfy your curiosity, and that of my seemingly anxious readership.
Do you remember we were friends in 2015, when I was a purely entertainment blogger?
Yes, you and I once had a good relationship, but our friendship unexpectedly hit the rocks.
Well, I can never forget the few articles I wrote for you to support your growing music career at that time. Of course, you appreciated what I did for you.
Besides, I have always been your fan, because I know how it feels like hustling to succeed as a promising talent here in Sekondi-Takoradi.
Why? Indifference towards talents in Sekondi-Takoradi would be above the national average if it were measured.
I even unapologetically alluded to that stark reality on Accra-based radio station, Okay 101.7 FM, during my interview with Abeiku Santana.
So no wonder you got featured in my book, "Control Your Own Destiny" — and you definitely have to buy a copy to see that.
In fact, you believed in my writing potential too. And you occasionally responded to my articles with, "You're good, man; keep it up etc."
Frankly speaking, it was a magnificent feeling, knowing we were supporting each other as "brothers" from the same underrated city.
So we individually strove, and still strive, to make the Oil City overwhelmingly proud with our individual achievements in our respective fields.
Moreover, I remember the day you humbly requested me to be your official writer, because you knew I could write well and felt you could work with me.
Interestingly, I insisted on being a freelance writer — with agreed terms and conditions — of which your supposed PRO, Abeiku Quansah, strongly disapproved.
I did what I believed was absolutely right, and today, I never regret taking that bold decision.
For I did not want to be exploited (two famous Ghanaian rappers almost did that to me), I sought to maintain my independence as a business-minded guy, and I was struggling to advance my passion too.
But Abeiku misconstrued my logical stance, and he thought I was so conceited and somehow belittling your craft.
Eventually, you and I could not keep in touch with each other — and that was how our friendship practically halted.
Kofi, I am very happy for you, that you are mightily succeeding without Sir Article's direct input.
Who knows? Your career would have blossomed even more if I were your official writer, writing wonderful pieces to promote your brand.
And — I honestly think — my writing career would not be as really, really heroic as it is now if I were your official writer, because I would be busily building your brand not my brand.
However, I also seek to prove you wrong, that I could hit the big time as a Sekondi-based writer without being directly affiliated to you.
I cannot tell you my plans; I am working towards achieving unparalleled successes on the global stage with my writing firm, Sircle Communications.
Lastly, I wish you well in your career. Remember, I still support everything you do as a musician.
Thank you.
Yours sincerely,
Sir Article.
Source: sirarticle.blogspot.com